In our quest to find an ideal meal plan for weight loss, we search far and wide for a solution. And while many come across handy diet schedules for such purposes, others feel the process is slow and seek quicker means to shed pounds. One of these methods is the 21-Day Fix meal plan- a technique so effective; it's gaining fast recognition among pro-health enthusiasts.
But embarking on such a diet plan can seem scary, especially if you aren't sure how to do it. Here, we'll help with a stable meal plan with pre-planned meals that can stretch for the needed period. We'll also include a grocery list to help you gather the needed items and a method of calculating how much you'll need to portion for the diet regimen.
Features
The 21-Day Fix meal plan features a fixed portion schedule involving colored containers. In the diet plan, you'll have seven-colored containers to determine which meals should be allotted at which portions. Each container is fitted with a specific amount of food that the individual determines using a calorie calculator. And you're expected to combine the diet plan with various workout sessions to guarantee a significant amount of weight loss by the end of the program.
To determine how many calories you'll need to eat daily, the first step is to multiply your current body weight by 11 pounds to get your calorie baseline or BMR (basal metabolic rate). Next, add 400, which stands as your workout calorie burn, to get the calorific requirement needed to keep your weight. Then, reduce this calorie requirement by 750 to give a calorie deficit- the amount you must consume daily to shed weight. Finally, you'll decide how much you plan with each colored container you eat daily by this parameter.
The general rule for preparing servings in this meal plan is grouping the foods by colored containers. Each bowl or plate represents a food group and is filled with the specific amount you'll need every day. The containers also come in varying sizes, representing as much food as needed to carry. And by default, you'll find the meals assorted thus;
Green- Vegetables (one cup)
Purple- Fruits (one cup)
Red- Proteins (3/4 cup)
Yellow- Carbs (1/2 cup)
Blue- Healthy fats (1/3 cup)
Orange- Seeds and dressings (two tablespoons)
You'll also find that the meal plan has specified calorie needs for various needs, with each stating how many containers you must consume daily. And on this list, the addition of nut butter and oils are allowed, with the amount determined by the plan you follow. But this option is slated at 1200 calories (Plan A), meaning the parameters are stated thus;
Three green containers,
Two purple containers,
Four red containers,
Two yellow containers,
One blue container,
One orange container, and
Two free containers for nut butter and oils
Benefits of this Diet
The 21-Day Fix meal plan is primarily designed to assist weight loss requirements. Because it determines how many calories you must consume daily, the plan helps you shed significant amounts of fat in the month. And as the plan caters to the specific calorie needs of every individual, you're sure to stay on the right track without dropping beyond the healthy weight line. And its program is so effective that witnesses have testified to shedding around five to seven pounds weekly!
The meal plan is also an efficient way to improve portion control as the daily meals are fixed and unchangeable. This ensures you curb unhealthy cravings and eat the specified and approved requirement that suits your body's needs. The plan also helps boost healthy eating habits, as it eliminates refined carbs, unprocessed foods, and high GMI foods. These combine to improve muscular growth, cut down blood sugar, boost immunity and encourage proper energy levels in the body.
Meal Plan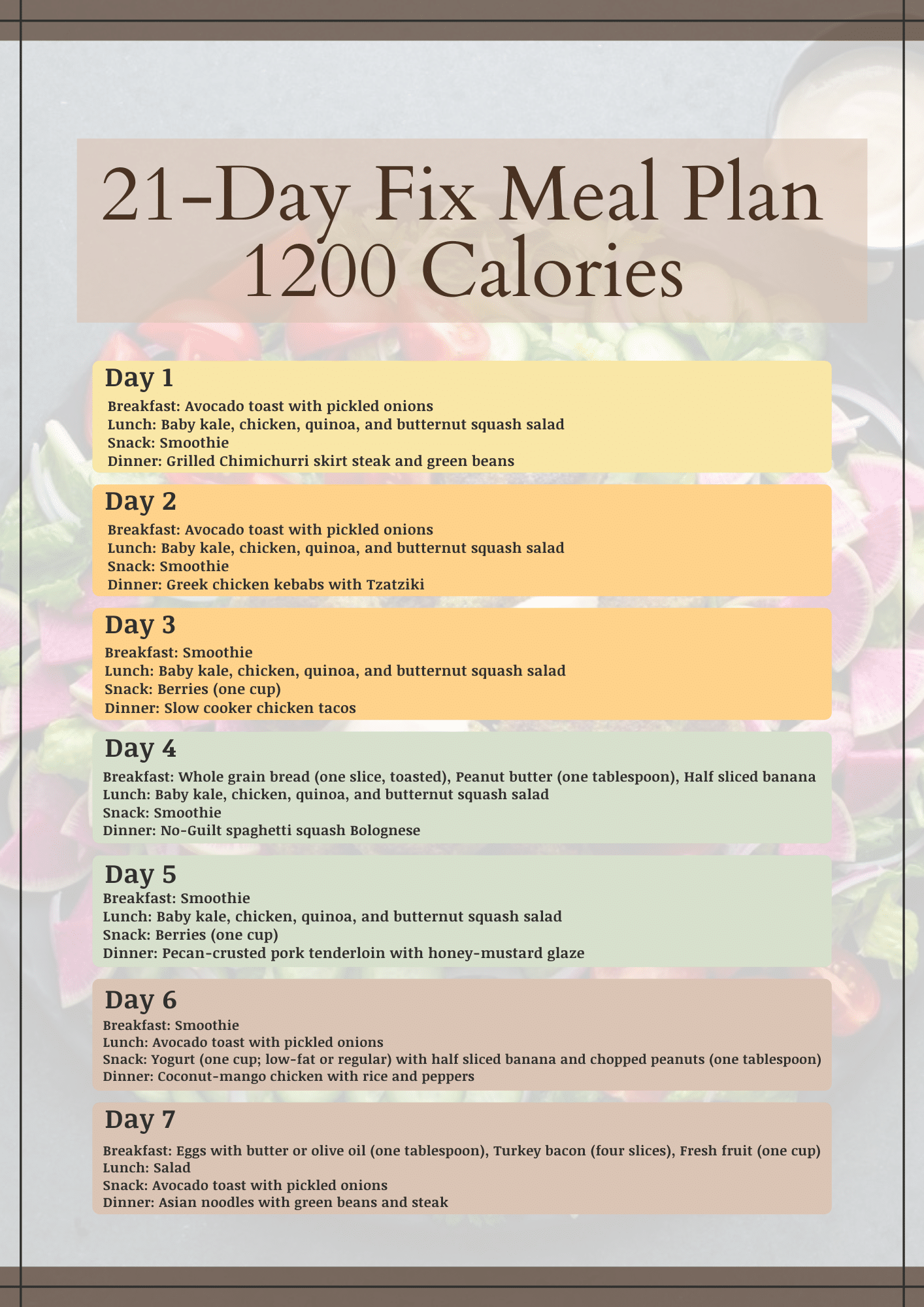 Download Here: 21-Day Fix Meal Plan 1200 Calories
This meal plan is a preset 21-Day Fix meal plan option that anyone can follow. And as long as the proper calorie needs have been calculated, it can induce fast weight loss and a healthy diet.
Day 1
Breakfast
Lunch
Snack
Dinner
Day 2
Breakfast
Avocado toast with pickled onions
Lunch
Snack
Dinner
Day 3
Breakfast
Lunch
Baby kale, chicken, quinoa, and butternut squash salad
Snack
Dinner
Day 4
Breakfast
Whole grain bread (one slice, toasted)
Peanut butter (one tablespoon)
Half sliced banana
Lunch
Baby kale, chicken, quinoa, and butternut squash salad
Snack
Dinner
No-Guilt spaghetti squash Bolognese
Day 5
Breakfast
Lunch
Baby kale, chicken, quinoa, and butternut squash salad
Snack
Dinner
Pecan-crusted pork tenderloin with honey-mustard glaze
Day 6
Breakfast
Lunch
Avocado toast with pickled onions
Snack
Dinner
Coconut-mango chicken with rice and peppers
Day 7
Breakfast
Eggs with butter or olive oil (one tablespoon)
Turkey bacon (four slices)
Fresh fruit (one cup)
Lunch
Snack
Avocado toast with pickled onions
Dinner
Extra Tips
Eat healthy during this meal plan, and avoid refined carb, fried foods, fast foods, processed foods, and items high in trans fat.
High-sugar options aren't allowed during this diet plan.
Avoid alcohol consumption when involved with this meal plan.
Some recipes are repeated weekly, so make enough to fit into the days they'll be needed and store them in the fridge or freezer for future consumption.
Most 21-day Fix meal plans include a shakeology smoothie menu blended with a cup of almond mix (unsweetened), two cups of berries, and ice cubes. But it can be replaced with protein powder or wholly substituted with two cups of berries and one cup of plain low-fat yogurt (regular or Greek).
If you're not a fan of pork, replace it with chicken or beef. But ensure the calorie count is retained when you do.
Remember that this plan works best when combined with regular exercises.
Shopping List
Meat and Fish
Steak (skirt or flank)
Turkey bacon
Pork tenderloin
Eggs
Fruits
Mixe berries
Fruit mix
Limes
View this post on Instagram

Grain and Grain Products
Vegetables and Legumes
Avocados
Cucumbers
Potatoes (regular or sweet)
Broccoli
Yellow onions
Rosemary
Scallions
Basil
Baby kale
Mixed lettuce
Bell peppers (red and green)
Salsa Verde
Spaghetti squash
Diced tomatoes (Canned)
Diced mangoes (Frozen)
Milk and Dairy
Seeds, Nuts, and Nut Products
Others
Ground pepper
ground cumin
Dijon mustard
Rice wine vinegar
Red wine vinegar
Apple cider vinegar
Olive oil (extra-virgin)
Conclusion
The 21-Day Fix meal plan works excellently to produce impressive weight loss results, especially when followed to the letter. And it's also great for developing healthy portion control and reducing unhealthy foods in the system. The meal plan has become popular with fitness experts, and it has displayed tremendous results for years. So, there's no reason why you shouldn't give it a try at your behest.