For obese people, a stage is reached where the best option for losing weight becomes a gastric bypass. And when that happens, many aspects of their lives will change, including their diet. So, having a proper gastric bypass meal plan becomes important as it helps you maintain the benefits of the surgery for a longer time. And while it won't be easy, it beats the alternative of returning to the unhealthy eating habits that led to such excessive weight gain.
This gastric bypass meal plan will help you avoid certain foods that can't return to your daily lifestyle. And it replaces them with foods that'll build the stepping stones to your new way of life.
Features
The meal plan combines foods that are permitted for your current condition. After gastric bypass surgery, your stomach needs time to heal, and as such, you can't process foods like it used to before the procedure. So, a proper meal schedule is prepared to ease your body into its original system. And the items differ, depending on the healing stage of your stomach.
Most gastric bypass meal plans feature four stages that must be strictly followed. The first stage, which comes immediately after surgery, strictly involves one or two ounces of clear liquids every two hours for seven days. Afterward, a one or two-week stage of protein shakes and pureed foods follow. Then, they're subjected to a period of two weeks maximum, where they can feed on soft foods, followed finally by reintroduction to solid foods. And each stage is closely monitored by a dietician who decides what foods are best for the candidate at different levels.
In this meal plan, you'll be dealing with the foods required during the final stage, as these items will shape your dietary habits for the rest of your life. As such, the schedule includes lean proteins, healthy fats and carbs, and a combination of rewarding snacks in-between meals. The plan lasts for one week but can be adjusted and adapted for more extended periods. And the foods are designed to encourage your stomach's healing and body's recovery from the stress of the surgery, plus help you track how many calories you consume daily.
Benefits of this Diet
For starters, this meal plan aims at changing your dietary lifestyle. A gastric bypass is mostly suggested as a radical approach to weight loss, and afterward, your body faces a recovery period. But assisting it with a diet of healthy foods and snacks helps accelerate recovery and build a new approach to eating. As such, you'll come out with a different take on what you eat, allowing you to live healthier and escape the chances of regaining excess weight.
The meal plan is also great for weight loss, as it combines lean proteins with liquid foods, healthy carbs, and fats. Plus, you get the required amount of daily proteins, especially since this aims to heal the operated area. The schedule is also balanced, so you won't feel hungry during the recovery process. And the snacks and foods are composed of healthy items, including lean proteins, whole grains, fruits and shakes, vegetables and legumes, and non-fat dairy.
You can also adopt this gastric bypass meal plan for keto diets as its schedule includes fewer carbs. It's also ideal for gluten-sensitive people as it combines foods free of such. You can also consider this gastric bypass meal plan as a template for preparing a paleo diet due to its use of whole foods. But note that the meal plan must be done under the supervision of a dietician, who will decide how many calories you can take and what foods you should stay off.
Meal Plan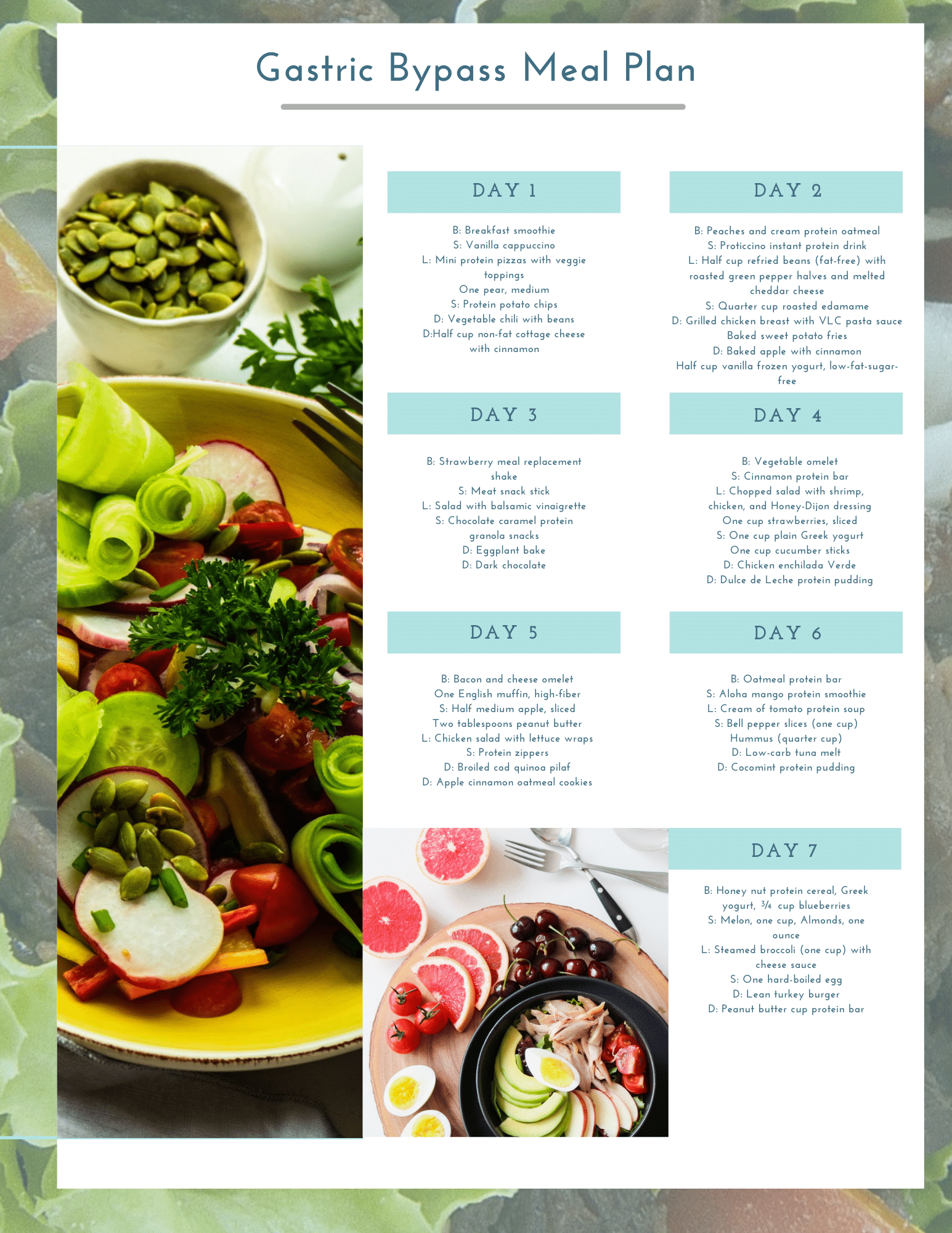 Download Here: Gastric Bypass Meal Plan
Day 1
Breakfast
Morning Snack
Lunch
Mini protein pizzas with veggie toppings
One pear, medium
Afternoon Snack
Dinner
Dessert
Day 2
Breakfast
Morning Snack
Proticcino instant protein drink
Lunch
Half cup refried beans (fat-free) with roasted green pepper halves and melted cheddar cheese
Afternoon Snack
Quarter cup roasted edamame
Dinner
Dessert
Day 3
Breakfast
Strawberry meal replacement shake
Morning Snack
Lunch
Salad with balsamic vinaigrette
Afternoon Snack
Chocolate caramel protein granola snacks
Dinner
Dessert
Day 4
Breakfast
Morning Snack
Lunch
Afternoon Snack
Dinner
Dessert
Dulce de Leche protein pudding
Day 5
Breakfast
Morning Snack
Lunch
Afternoon Snack
Dinner
Dessert
Day 6
Breakfast
Morning Snack
Aloha mango protein smoothie
Lunch
Afternoon Snack
Bell pepper slices (one cup)
Hummus (quarter cup)
Dinner
Dessert
Day 7
Breakfast
Honey nut protein cereal
Greek yogurt
¾ cup blueberries
Morning Snack
Melon, one cup
Almonds, one ounce
Lunch
Afternoon Snack
Dinner
Dessert
Peanut butter cup protein bar
Extra Tips
The gastric bypass meal plan must be done under your doctor's supervision.
Prepare the meals in batches you can store for later. This way, you can easily access the portions at the needed time.
Ensuretoslowly chew when eating; about 15 seconds for each bite. You want the foods to fully break down before reaching the stomach to digest better and not stress its healing.
You'll need to stay hydrated during the period of recovery, so drink lots of water. You can also consume low-calorie or calorie-free beverages if you prefer. But give a 30-minute space between food and drink.
You'll have to stay off certain foods as they may be hard to digest. Options like shellfish, pork, beef, and grapes should be taken off your menu list, and your dietician will suggest more options.
Stay off refined carbs, processed foods, and high-GMI foods during the entire period of your meal plan.
Avoid alcohol, caffeine, whole milk, desserts, fast foods, and carbonated drinks.
Ensure that each meal is properly portioned and should be no bigger than your clenched fist. You want to slowly introduce your body to eating these foods without stressing your gut in the process.
Drink water directly from the glass or cup, and don't use a straw.
Your dietician will recommend supplements during this meal plan, and you're better off purchasing them in chewable or liquid form.
You may consume whole grains and nuts during this meal plan, but ensure they're properly chewed before swallowing. This allows your stomach to fully digest them before they pass to the intestine and prevent bowel discomfort.
This isn't the time to return to spicy and greasy foods, so stay off those types.
It helps to have a goal buddy who can monitor your progress and keep you on track. A friend, colleague, relative, or sibling can be informed of your plan to change your eating lifestyle.
Shopping List
Apples
Powdered peanut butter
Vanilla protein powder
Cappuccino powder
Protein bread
Pears
Cucumbers
Cabbages
Protein potato chips
Vegetable chili
Cheddar cheese
Cottage cheese, non-fat
Protein oatmeal
Pecans
Protein drinks
Refried beans, fat-free
Edamame, roasted
Pasta sauce
Meal replacement shakes
Meat snack sticks
Tomatoes
Balsamic vinegar
Protein granola snacks
Eggplants
Dark chocolate
Vegetable omelet mix
Protein bars
Dijon mustard
Strawberries
Feta cheese
Chicken Enchilada Verde, pre-packed
Protein pudding
Omelet mix
Whole-grain English muffin
Mayonnaise, non-fat
Walnuts
Cod
Quinoa
Green peas
Oatmeal
Protein smoothie
Protein soup
High-fiber bread
Swiss cheese
Tuna, low-carb
Portobello mushrooms
Blueberries
Melons
Almonds
Ketchup, sugar-relish
Burger buns, high-fiber
Conclusion
Living after gastric bypass surgery can be challenging, especially since your body must adopt a new eating method. But because this weight loss procedure depends on it, you need to stick to a new diet. This meal plan helps you retain the new weight, stay in shape and change your dietary lifestyle for good. And with it, you can prevent problems associated with weight gain, eat healthily and live a more fulfilling lifestyle.