One thing with neckbone recipes is that there'll be multiple bones to navigate around, but the taste will be worth the experience. Not only is the meat delicious, but the ensuing gravy is also a bonus that turns every recipe it comes into contact with into flavorful goodness.
Neck bones are also really cheap and simple to prepare; despite this, however, you can still expect the meat to be flavorful and satisfying, especially when prepared properly. If we've aroused your interest and you'd like to learn the cooking process, follow all the guidelines and instructions outlined in this article.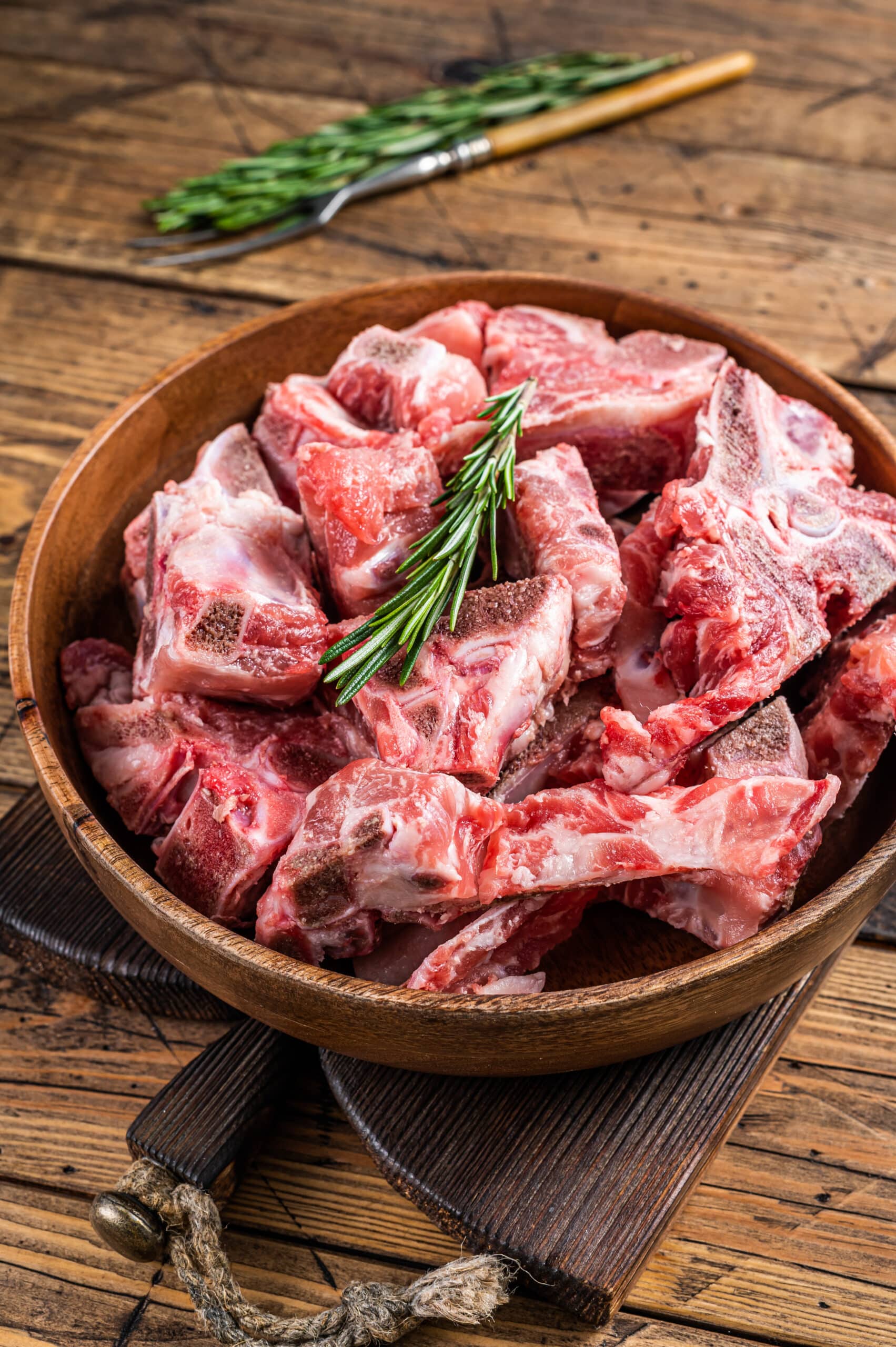 Tips for Cooking Neckbones
We have outlined some really helpful tips below to help you get the best out of cooking neckbones. Pay close attention to the following:
Where to Find Neckbones
Neckbones may be particularly hard to come by unless you reside in or near the hood or more ethnic communities. They're shady subterranean specialties that go unnoticed by most mainstream media. You can, however, make a reservation with your neighborhood butcher.
Neckbones are also commonly found in local grocery stores in areas where blue-collar people shop. Expect them to be hard to come by in upmarket and well-known stores. Ideally, it would help if you chose neck bones that have small to medium size and have a lot of meat on them.
Possible Substitutes
Among the widely accessible options, pork shanks are likely to be the best possible choice to replace neckbones. The pork shank is the pig's front forearm region. Because the pigs build muscles while living in the forests, this cut is tough, and the flesh has an exquisite flavor that is far superior to ordinary pork. The marrow in the bone it surrounds melts into a braise when cooked slowly, making it extremely rich.
Rinse neckbones properly before cooking – Follow these steps to rinse your neckbones:
In a sieve or a basin, arrange the neck bones. Put the colander in the sink and turn on the water supply.
Make sure to remove cartilage blood and lose fat from each neck bone with your fingertips.
Give them one last squirt of water for a final rinse.
Use a knife to remove hard-to-remove cartilage and fat.
View this post on Instagram

Smoking Pork Neck Bones without a Smoker
You might not be able to get the same great smoky flavor without smoking the neck bones in a smoker, but an alternative that might work is to try roasting them with a lot of spices and a little liquid smoke.
It's a good second option, but only use a few drops, say 3 to 4 drops for numerous neck bones. It's a tricky ingredient because even a small amount can ruin a sauce. If it's a little heavy, it won't hurt the bones too much, but put it in the pan with any liquids, not on the bones.
Cooking Time for Neck Bones
The cooking duration for neckbones typically depends on the method employed in the cooking process. The timing guidelines in the table below are ideal for getting the best results with neckbone-based recipes:
Cooking Method
Cooking Time
Cooking neckbones in a slow cooker
5 to 6 hours on high; 8 to 10 hours on low
Baking neckbones at 375 F
2 hours covered, 45 minutes uncovered
Simmering neckbones on the stovetop
1 to 1½ hours
Print
Neck Bone Gravy & Rice (8 Servings)
---
---
Instructions
Lightly toast the flour over medium heat using a small skillet, stirring regularly, until it turns a light tan color; put the flour aside after this process.
Using salt and pepper, sprinkle and season the fresh neck bones. With one tablespoon of oil heated in a Dutch oven or a large soup pot, brown the freshly seasoned neck bones on all sides. Place the neckbones on a plate to cool.
Warm up the remaining tablespoon of oil in the same pot. Combine the onion, celery, bell pepper, cayenne, garlic, and one teaspoon of black pepper in a large mixing bowl. Cook this mixture for 5 to 7 minutes, frequently stirring, until it gets softened and aromatic.
Put the browned neck bones back into the saucepan and the smoked bones. Fill the pot halfway with water (pour in about 8 cups). Let the water boil, then reduce the heat to a medium-low level and cook for 1 hour, or until the flesh falls off the bones.
Take the bones out of the pot. Cut the meat off the bones using a knife or clean hands once they have cooled down enough to be handled. Put the meat back into the pot, making sure there are no small bones between them.
Make a slurry in a small basin by combining a little water with 1/2 cup of the remaining toasted flour. Bring the water to a boil in the pot. Check the consistency of your gravy; if it appears too thin, prepare another slurry with part or all of the leftover flour.
Taste after adding the Worcestershire sauce. Add some salt to taste—it could take up to 1 tablespoon, depending on your preference and how much salt content was in your smoked bones. Afterward, pour in 1 cup of scallions and stir.
Pour a cup of cooked rice in each serving bowl, top with gravy, and then top with additional scallions.
The gravy can be made up to a week ahead of time without the scallions. Allow it to cool after cooking before covering and chilling in the refrigerator. Bring to a boil when ready to serve.
This recipe for neckbones is so soulful and delicious, and you may find yourself wanting to prepare it again and again. The entire cooking duration for this recipe is 2 hours, including a prep time of 1 hour. We recommend this video recipe for delicious ideas if you'd like to see more ideas to cook with neckbones.