Costco's stuffed salmon is a food item we recommend to foodies who enjoy both cuisines and shopping at Costco. On the one hand, the salmon has an extremely flavorful quality, with just a hint of earthiness. The stuffing, on the other hand, is really excellent and flavorful, and when cooked properly, Costco-bought stuffed salmon is a fantastic meal option.
This article will show you how best to cook stuffed salmon from Costco to obtain the most delicious results possible. It is very important to pay attention to our tips and guidelines in order to ensure great-tasting results.
Salmon Nutrition Facts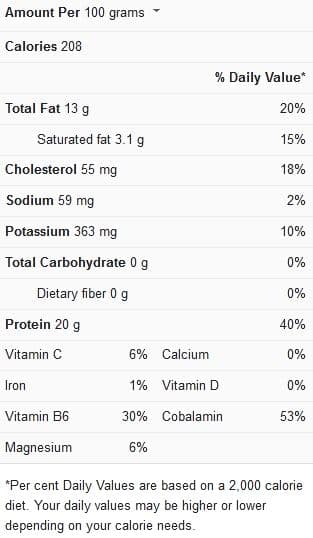 Tips for Cooking Stuffed Salmon from Costco
We have compiled the tips, suggestions, and guidelines below in order to get the best out of your stuffed salmon recipes:
What Costco's stuffed salmon is made of – If you're like many other people who are particular about the ingredients of whatever food item they purchase, then you'll want to know that the following ingredients are contained in Costco's stuffed salmon:
In addition to these ingredients, Costco's stuffed salmon also contains around 2% of the following additives:
Don't refrigerate the salmon for too long – Salmon, like other fish and seafood, should not be kept in the refrigerator for long periods of time. Fresh raw salmon will typically last as long as two to three days in the refrigerator at most.
When buying fresh salmon, try to prepare it the same night you get it for your own safety. As previously said, frozen fish should be thawed (if preferred) and cooked the same day.
Cooking methods to try – There are different ways to cook Costco's stuffed salmon to deliver great-tasting results onto your plate. Two of the most preferred methods have been described below, so take your pick:
Baking the Stuffed Salmon
Follow these steps if you choose to bake your Costco-bought stuffed salmon:
 

View this post on Instagram

 

Air Frying the Stuffed Salmon
Follow these steps if the air fryer is your preferred method of cooking Costco's stuffed salmon:
Seasoning suggestions for improved flavor – For a decent technique to cook frozen salmon that has a great taste after it's done, follow these instructions:
Test for doneness – Gently pressing downwards on the top of the salmon filet with a fork or one of your fingers is one of the simplest ways to determine if your salmon is completely cooked.
If the flesh of the salmon flakes, which indicates that it separates readily along with the white stripes that go across the salmon filet, it's done.
Cooking Time for Stuffed Salmon
The following timing guidelines in the table below are ideal for the best results when cooking stuffed salmon from Costco:
| | |
| --- | --- |
| Cooking procedure | Cooking time |
| Cooking stuffed salmon from Costco in the oven at 400 degrees Fahrenheit | 20 minutes |
| Cooking stuffed salmon from Costco in the air fryer at 400 degrees Fahrenheit | 10 to 12 minutes |
Print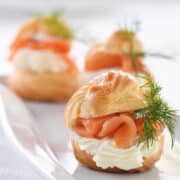 Stuffed Salmon Copycat Recipe (4 Servings)
---
4 tablespoons

of olive oil, divided in half

4

(1/2 lb) salmon filets, at least 1 and ½ inches thick, deboned and skin removed

1 cup

of flaked style imitation crab meat, pulled apart

1 cup

of hot cooked long-grain rice

1 tablespoon

of melted butter

1 tablespoon

of softened cream cheese

½ teaspoon

of minced garlic

¼ teaspoon

of crushed dried celery seed

¼ teaspoon

of basil

¼ teaspoon

of thyme

1 teaspoon

of salt

1 teaspoon

of dill
---
Instructions
Set up your oven's temperature to 400 degrees Fahrenheit and let it preheat. With 2 tablespoons of olive oil, brush the bottom and sides of a 1.5-quart baking sheet.
Cut each salmon filet lengthwise, leaving ½ an inch of uncut space on each side and bottom; make a pocket by carefully putting the point of a sharp knife under each flap, leaving ½ inch space on each side.
Mix the crab meat, butter, rice, cream cheese, garlic, and herbs (excluding salt and dill) in a medium mixing bowl. Fill each filet pocket with this filling mixture, leaving a little mound at the top. Brush the salmon with the remaining olive oil, season with salt and dill, and arrange in a baking dish.
Bake the stuffed salmon for 20 minutes, checking for doneness about 2 minutes before the end of the cooking time (by this time, the thickest section of the filet will flake).
Conclusion
This recipe results in deliciously baked stuffed salmon, and you can always transform your Costco-bought stuffed salmon into a fantastic dinner option. The entire cooking duration for this recipe is 30 minutes, including a 10-minute prep time and a 20-minute cook time.