Tamales are a delightful addition to any mealtime rotation, whether stuffed with cheese and chicken or indulgent, sweet fillings. Tamales are a typical Mexican meal made with maize dough and a sweet or savory filling, then enveloped in corn husks and steamed.
To prepare tamales, you'll typically need a Bote Tamalera steamer, which is the traditional way to steam tamales. However, not everyone possesses this cooking equipment, and Fortunately, you can steam tamales conveniently in your oven. If this is not a procedure you're familiar with, this article is here to help you through the process.
Tamales Nutrition Facts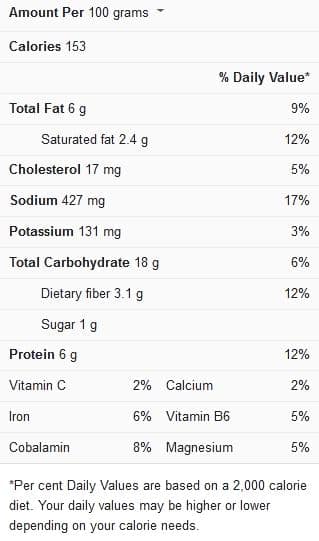 Tips for Cooking Tamales in the Oven
The following helpful tips have been compiled to help you through the process of cooking tamales in the oven:
What are tamales? – Tamales are a classic meal in a number of Central and South American countries. A corn-based masa (dough) is folded around a filling mixture and then steamed in a corn husk in Mexican tamale varieties. They're typically stuffed with chicken, beef, pork, cheese, and/or beans, but it's also possible to change up the filling in tamales to suit your tastes.
Necessary ingredients – The following ingredients are necessary to prepare tamales:
Dried corn husks: These can be found in the Mexican or produce sections of your supermarket, or you can get them from Amazon if they aren't. Be on the lookout for sufficiently wide husks and wrap around the entire tamale filling. However, if you only come across a bag of husks that are very narrow, you can always just stack two over each other. To tie the tamales together, shred a few husks into long, slender pieces.
Ingredients for masa (dough): You'll need the following ingredients to make the masa dough:
Harina Masa: Nixtamalized corn flour, finely milled. (The most common brand is "Maseca.")
Any mild-flavored oil, such as corn oil or avocado oil, would suffice.
Stock: Choose from chicken, beef, or veggie stock.
To season the masa, combine baking powder, salt, and ground cumin.
Filling: These tamales may be filled with just about anything you like. They're a great way to use up excess taco ingredients, meat, veggies, cheese, and just about anything else. Alternatively, you can make a fresh batch of filling to use in these. Mix & match whatever seems nice to you. Among the possibilities are:
Chicken
Beef
Pork
Refried beans
Cheese
Alternative cooking methods – Other than being cooked in the oven, tamales can also be prepared in the Instant pot or on the stovetop.
View this post on Instagram

Stovetop Tamales
It's quite important to have a large stockpot that comes with a strainer when trying to make tamales on the stovetop. However, you may also be able to buy several types of strainer baskets individually.
To cook tamales on the stovetop, place the tamales in a strainer, pour 2 cups of water into the pot's base, cover and steam the tamales for 30 to 40 minutes, or until the masa splits readily from the husks.
Instant Pot Tamales
Simply pour 1 cup of water into the Instant Pot's bottom, insert the strainer basket, place the tamales in the strainer basket, cover and cook them on high pressure for 20 minutes (quick release afterward). This can be done until the masa separates readily from the husks.
Cooking Time for Tamales in the Oven
In the table below, we have highlighted ideal timing guidelines that will help you get desirable results when cooking tamales in the oven:
| | |
| --- | --- |
| Cooking procedure | Cooking time |
| Cooking tamales in the oven at 375 degrees Fahrenheit | 40 minutes |
Print
Baked Christmas Tamales (8 Servings)
---
For the dough
1 tablespoon

of vinegar

2

beaten eggs

1¼ cup

of masa harina (tortilla flour), preferably tamale mix

½ cup

of flour

1 tablespoon

of baking powder

1 teaspoon

of salt

¼

melted butter

¼ cup

of grated cheese, a dry cheese is best (optional)

¼ cup

of chopped butter (optional)
---
Instructions
To make the tamale filling, begin by pouring oil into a large-sized skillet over medium heat. In the pan, sauté the garlic, onion, red bell pepper, and cumin together until almost caramelized. When everything is ready, toss in the tomatoes and stir thoroughly.
Cook this sauteed mixture for five minutes after adding the chicken, afterwards pour in the mustard, Worcestershire sauce, salt, and pepper (to taste). At this point, you v can also put in the raisins, olives, and capers, and whisk in the cilantro before turning off the heat and transferring to a glass baking sheet (round or rectangular forms will suffice)
To make the tamale dough, adjust your oven's temperature to 375 degrees Fahrenheit and leave it to heat up.
Combine the milk and vinegar in a mixing dish and let the mixture sit aside for a couple of minutes after which you can pour in the beaten eggs.
Pour the milk mixture over the masa harina, flour, baking powder, and salt in a separate basin. Mix thoroughly, then stir in the melted butter. Taste the mixture and modify the flavoring with salt or pepper for extra taste if you deem it necessary.
Bake the dough for 30 minutes after layering it over the filling.
Sprinkle grated cheese and diced butter over the top of the dough just before removing it from the oven (this is an optional step). Bake for another 10 minutes, or until the top is golden brown and bubbling.
Take the tamales out of the oven and leave them aside to cool for 10 minutes, afterwards, feel free to serve and enjoy them.
If you're interested in more recipe ideas for oven-baked tamales, you may want to try out the instructions in this video recipe.
This recipe for oven-baked tamales is a delicious way to enjoy tamale recipes in the absence of equipment necessary for cooking tamales in the traditional method. The entire cooking duration for the recipe lasts for about 1 hour 40 minutes, with a prep time of 50 minutes and a cook time of 50 minutes.