When preparing a chicken dish, there are tons of ways to go about this. Regardless of your choice of cooking, either grilling, stir-frying, barbecuing, roasting, or even baking the chicken, it is always accompanied by a crispy flavor and aroma when ready. Another easy and quick method of preparing tasty fried chicken wings is air-frying, and although it is a fast, healthy, and efficient means of cooking chicken and other recipes, not everyone is familiar with this technique.
The air fryer could be a little bit complex to use, especially if it's your first time using it. However, if you fall under that category of people who do not know how to work their way around an air fryer, no need to panic; as this article has got you covered. Hence, you need to pay close attention to the essential tips, directions, and guidelines needed to prepare your tasty chicken wings.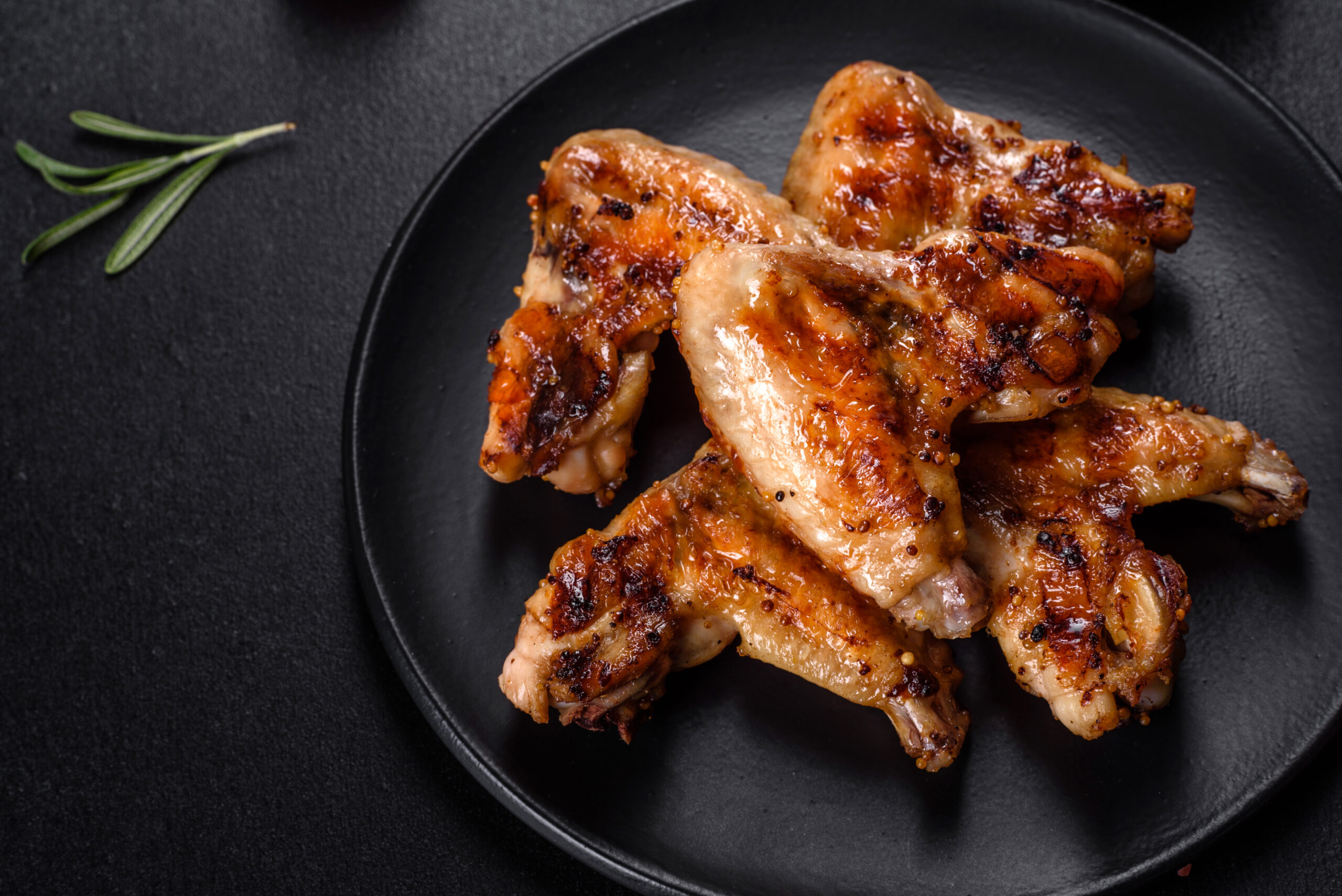 Tips for Cooking Chicken Wings in Air Fryer
The following guidelines and cooking tips below have been carefully compiled to ensure that you get the best out of your chicken wings recipe:
Air fryers – When cooking with an air fryer, there's absolutely no need to pre-heat it as it contains a circulating hot air that makes the chicken wings extra tender and crispy at a go. The air fryer also comes in two different forms; the toaster oven style (Cuisinart model) and the slide-in drawer/basket type (Phillips brand). However, the recommendable air fryer to use is the toaster oven style as it's more accomodating and faster. Making use of an air fryer also lessens the amount of cholesterol in the chicken wings as it doesn't require the use of much cooking oil.
Mind the instructions manual for your air fryer – Every cooking equipment comes with its instructions manual and it's very important that you go through it as it contains most of the essential operating guides, user maintenance instructions and so much more to enable you to use your air fryer properly. You would even find some suggested food recipes that could be prepared using the air fryer too. In cases where the manual is outdated or no longer accessible, downloading a copy of it online is another best option.
Chicken wings to purchase – There are different varieties of chicken wings out there and even various methods of preparation that are sure to give a brilliant result when made. A popular type known worldwide is the buffalo chicken wings, mostly eaten with some hot chili sauce. Other types include; sweet chili chicken wings, lemon pepper, baked Peri Peri, Persian style grilled, sticky Asian, Nashville hot chicken wings, and so on. Whichever method you're doing, Be sure to get the best out of your choice.
Breading your chicken wings – In order to get an all-around crispy chicken wing, appropriately coating your chicken wings in some bread crumbs or a mixture of flour and fresh eggs gives it a more delightful and savory finishing. As easy as this is, you might want to be extra careful not to overcoat your chicken wings by dipping them too much in the mix. This in turn makes it a bit difficult to hydrate the flour in the air fryer, resulting in floury patches on the surface of the chicken wings. Another useful tip is to add a little bit of baking powder or soak your chicken wings in buttermilk to make them evenly tender, providing a nice crispy layer and texture for the chicken.
Don't overcrowd your air fryer – If you're making use of a smaller air fryer, make sure to add your chicken wings in a single layer to avoid overcrowding the air fryer basket. You can place at least three to four pieces, this makes it easier and faster to prepare when there's enough room in the air fryer.
View this post on Instagram

Cooking Time for Chicken Wings in an Air Fryer
Take note of the ideal timing guidelines in the table below if you desire to cook tasty and crispy chicken wings in your air fryer:
| | |
| --- | --- |
| Cooking Procedure | Cooking Time |
| Initial cooking in an air fryer at 380°F | 15 minutes |
| Final cooking of chicken wings in the air fryer at 400°F | 5 minutes |
Print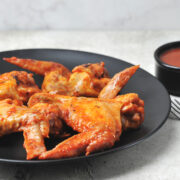 Air fryer chicken wings (2 – 3 servings)
---
---
Instructions
Place your chicken wings in a deep bowl or baking dish. You can add some lemon juice and vinegar to wash it up. Then remove, rinse and pat dry with some paper towel. When it's nice and dry, it tends to lock in the seasoning so much better. Also, if you're using frozen chicken wings, just set them in the air fryer for 10 minutes at 350°F. This will thaw the chicken and afterward, move on with the next step of seasoning.
To really get out the moisture, it's important to add some vegetable/olive oil and add your seasonings to your chicken wings too for best results. Also, add the baking powder or flour (whichever you're using) to a bowl and mix thoroughly adding chicken wings to your flour mix and coat well. Try to shake off the excess layers of flour with a tong and place it on a rack (air fryer basket). Plus, if you've got a non-stick cooking spray, you can apply it to the air fryer basket to avoid getting seasoned chicken stains on it.
Place the air fryer basket inside the air fryer and set it at 380°F to cook for 15 minutes or less. Halfway through your cook, remember to check your chicken wings, occasionally spraying some cooking oil on the flour spots and flipping them over with tongs. Cook for an extra 5 minutes at 400°F.
Remember, the air fryer shouldn't be overcrowded as it doesn't take too many chicken wings, so it's necessary to cook in smaller batches repeating the above steps with each fry. Remove and serve on a clean flat plate as a side dish with some potatoes, mozzarella/carrot sticks, or some mini cheese puffs.
When it comes to convenient and fast cooking, using the air fryer method remains one of the best there is. This easy recipe would no doubt make the best tasteful chicken wings. For more inspiration on air fryer recipes, check out some of these video recipes.