With much certainty, you must have heard of the word "inflammation" but do not know what it's all about. It is just the body's natural response to injuries or other illnesses. Inflammation is the process whereby your body tries to prevent any illness or injury by stimulating your body's immune system to respond in the same chunk that's being threatened. Inflammation is a protective mechanism designed to protect the body from infection, illness, or injury. It can also occur chronically, leading to various diseases such as cancer and diabetes. An anti-inflammatory diet can be one of the steps essential to take for inflammation; this diet helps prevent conditions like heart disease, arthritis, and even cancer.
Features
You might be searching for a very effective remedy to reduce inflammation. Still, little do you know that you do not need a heavy dose of medications or any treatment. All you need to do is change your eating routine, and you will find that mainstream nutrition experts advocate eating anti-inflammatory foods.
This diet is rich in unprocessed, fresh foods. Going for colorful fruits and vegetables like tomatoes, grapes, berries, cherries, deep green leafy veg, different types of whole grain like brown rice, and legumes like beans and chickpeas. If you are prone to inflammation, you should avoid highly processed, highly greasy, or highly sweet foods. Sweets, cakes and cookies, and sodas: They are low in nutrients, easy to overeat, and can contribute to high blood sugar, weight gain, and high cholesterol. Right in this 7-day plan, you sure would be able to find a week of delicious and simple anti-inflammatory recipes rich in fruit, whole grains, seafood, vegetables, and nuts to help jump-start your health journey and boost your confidence in the kitchen.
Benefits
The anti-inflammatory diet helps boost the immune system so it can tackle inflammation, also helps to strengthen the bone, and relieve joint pains. It could improve health conditions, lead to a longer life, and even slow aging. Saturated fats and refined sugar have been known to cause inflammation in the body, processed foods included. Certain foods do not trigger it and might even reduce inflammation. These foods include which are rich in substances called antioxidants. Omega-3 fatty acids are good fats that help to prevent heart diseases. The antioxidant helps to protect the body from free radical damage.
Combining an anti-inflammatory diet with sufficient amounts of exercise and sleep would help improve symptoms of inflammatory bowel syndrome, lupus. It also reduces the risk of obesity, heart disease, diabetes, depression, cancer, and inflammatory markers in your blood. In addition, it efficiently produces good cholesterol and blood sugar levels. This diet is widely known to be beneficial to anyone. If you have no idea where to begin, speak with your doctor or a dietician. Lastly, do not feel obligated to follow this meal plan to get the anti-inflammatory effects. Instead, use it as a source of inspiration for healthy eating and vary the number of meals according to your taste.
Meal Plan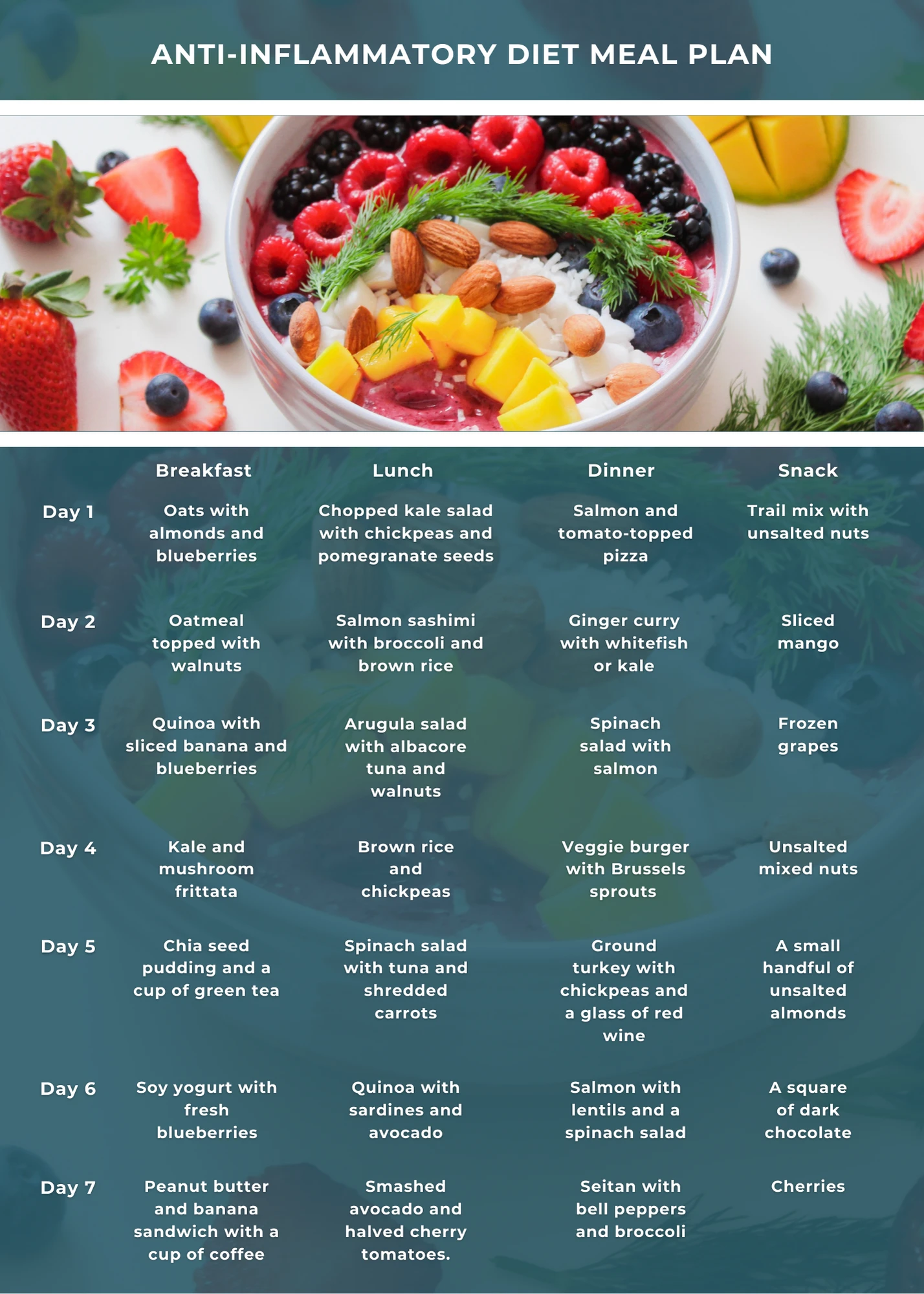 Download Here: Anti-inflammatory diet meal plan
Day 1
Breakfast
Lunch
Chopped kale salad with chickpeas and pomegranate seeds
Dinner
Salmon and tomato-topped pizza
Snack
Trail mix with unsalted nuts
Day 2
Breakfast
Oatmeal topped with walnuts
Lunch
Salmon sashimi with broccoli and brown rice
Dinner
Ginger curry with whitefish or kale
Snack
Day 3
Breakfast
Quinoa with sliced banana and blueberries
Lunch
Arugula salad with albacore tuna and walnuts
Dinner
Snack
Day 4
Breakfast
Lunch
Dinner
Veggie burger with Brussels sprouts
Snack
Day 5
Breakfast
Chia seed pudding and a cup of green tea
Lunch
Dinner
Ground turkey with chickpeas and a glass of red wine
Snack
A small handful of unsalted almonds
Day 6
Breakfast
Soy yogurt with fresh blueberries
Lunch
Dinner
Snack
A square of dark chocolate
Day 7
Breakfast
Lunch
Smashed avocado and halved cherry tomatoes.
Dinner
Snack
Extra tips
Choose whole grains such as oatmeal, wheat pasta, and whole-grain bread.
Legumes' fat and protein content, such as beans and lentils, keeps you full and regulates digestion.
It's vital to get enough sleep, and inflammation increases when you don't get enough sleep.
Eat four to eight servings of fruits and vegetables known to have high antioxidants.
Limit your intake of foods high in omega-6 fatty acids while increasing your consumption of foods rich in omega-3 fatty acids.
Replace red meat with white meat or lean poultry, red beans, fish, beans, and many lentils.
Swap margarine and vegetable oils for healthier fats like olive oil.
Replace refined grains like white bread, saltines, and pastries with fiber-rich whole grains like oats, quinoa, brown rice, and pasta.
Rather than seasoning your meals with salt, use anti-inflammatory herbs such as turmeric or ginger.
Chronic disease risk can be decreased through exercise and reducing inflammatory markers.
Fish oil and curcumin are among the supplements that reduce inflammation.
Sweet pastries, chocolate, cakes, cookies, and doughnuts are examples of foods with added sugar that should be avoided.
Conclusion
Here's a secret I learned about an anti-inflammatory diet. Not everybody's body system works the same, and this means food that might be anti-inflammatory for you may not be for someone else. So I would strongly suggest that you take a food allergy test either online or through your doctor. When this is done, you will eliminate the previously causing inflammation in your body.
After looking through these diet plans, you might find that some ingredients aren't anti-inflammatory enough to your needs. Swap out that ingredient and input something healthy for your consumption. For example, you can reduce your risk of chronic disease by following an anti-inflammatory diet and lifestyle because changes to your diet can reduce your risk of chronic inflammation.