Whether you're making your favorite baby back ribs or dabbling with a helping of beef short ribs, you can create an amazing recipe in a 250F oven. All that's needed is a detailed guide and a wonderful recipe, and you'll be good to go. Both beef and pork ribs are great for slow-roasting, which is why they excel in the oven and on the grill. And here, you'll discover the tricks and turns used to cook these fantastic ribs to perfection.
Ribs Nutrition Facts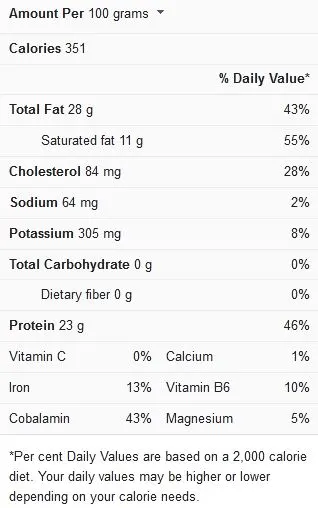 Choosing the Ribs
The first step to determining the cooking time for ribs is to decide which type you're cooking. And you can choose from different types, derived from pork, beef, or lamb. But for simplicity purposes, we'll be focusing on the two most popular types, namely pork and beef ribs.
Pork ribs come in two types; baby back ribs and spare ribs. And the latter are the most commonly cooked for various reasons. Baby back ribs are lower in fat but offer tenderer meat than spare ribs. It's why they take less time to cook- by at least an hour faster than spare ribs. Of the two pork rib types, spare ribs excel best when slow-braised.
Beef ribs are firmer than pork ribs, so they take longer to cook. They're also of two main types; back ribs and short ribs. The back ribs have less meat and more cartilage, as it's a prized cut of beef, and most of the meat is cut to make ground beef. But spare ribs are meatier and more affordable, making them more popular than their bonier counterpart. They're also cut shorter- hence the mane- and great for braising.
Of the two categories, pork ribs are most commonly cooked in the oven and grill due to them having more meat. And their less dense meat means faster cooking time than the tougher texture of beef ribs. But beef ribs are higher in fat, meaning the results will be moist and juicy and accept a wide array of seasoning options.
Beef ribs are great for intensity, as the meat itself is renowned for its richness. They're also of the highest quality, as most times, they come from pasture-fed cows, making them pricier than pork ribs.
View this post on Instagram

Choosing the Cooking Method
The oven and grill can cook ribs at 250F, but each method comes with its unique cooking time. Also, the procedure used determines the flavor profile, as both types use different conditions to prepare the meat to doneness. While both techniques are great for the hands-off preparation of ribs, places like the charcoal grill give the meat a robustly smoky flavor. But on a general note, the preparation and seasoning requirements remain the same.
Preparing the Meat
All ribs come with a thin membrane covering the inside, and this part needs to be taken out before they're seasoned and cooked. If they're prepared otherwise, the membranes won't cook to doneness, forcing you to pull it out with every piece you cut to eat.
Seasoning Options
Most times, a dry rub is all you need to prepare any ribs. And besides the typical salt and pepper combo, other additions include onion powder, garlic powder, thyme, rosemary, and paprika. You'll also find some dry rub mixtures containing brown sugar, ancho chili powder, and ground cumin.
Some may even go further with options like dry mustard or the first coating of Dijon mustard, olive oil, mayonnaise, BBQ, or hot sauce, so the seasoning holds. Others prefer to make a marinade using vinegar or olive oil as a liquid base for the selected spices and brush this onto the ribs. And if you're cooking the ribs in the oven or gas grill, a few tablespoons of liquid smoke can be brushed on the rack, or mixed with the wet rub, so the flavor is similar to a charcoal-style recipe.
Whichever you select, the key is to rub or massage the dry spice mix into the meat, so it penetrates deeper. Or consider letting the ribs sit for about two to four hours before baking or roasting, regardless of whether you use a marinade or dry rub.
Cooking Times for Ribs at 250F
If you're using an oven, you'll have to first cover the ribs with foil sheets before baking them. This way, the moisture is trapped between the foil and meat, and the result is juicy and tender. Most people go further to smear the ribs with a rich helping of BBQ sauce and roast them under the broiler till the layer turns crisp.
The ribs must also be roasted until the temperature reads 160F or 165F on a meat thermometer. Then, they're wrapped in foil and baked until the meat turns out tender. All ribs can be made this way, both in the oven and on a smoker, but it works best for pork ribs. At this point, you can add a braising ingredient to the ribs, like your favorite fruit juice, a rich sauce, or a blend of honey and butter.
For beef ribs, you can try a spritz of olive oil or fruit juice every hour to infuse moisture into the meat as it cooks.
And note that doneness times vary when cooking different types of ribs so, we've listed the approximated duration for different types below;
View this post on Instagram

In the Oven
Beef Ribs
Back Ribs- four to five hours
Short Ribs- three to four hours
Pork Ribs
Baby Back Ribs- three to four hours
Spare Ribs- four hours
On the Grill
Beef Ribs
Back Ribs- four hours
Short Ribs- six hours
Pork Ribs (3 pounds)
Baby Back Ribs- five hours
Spare Ribs- six to eight hours
Remember that you want the internal temperature to reach at least 160F before wrapping the ribs in foil.
Print
Oven-Roasted Back Ribs (6 Servings)
---
Two racks beef back ribs, two pounds each
Half cup apple cider vinegar

Two tablespoons

hot pepper sauce

Two teaspoons

smoked salt

One teaspoon

onion powder

One teaspoon

garlic powder
Half teaspoon black pepper
Olive oil spray
---
Instructions
Place a parchment paper sheet on a baking tray and prep the oven to heat to 250F. Then, combine the vinegar with the hot sauce to make a marinade and keep it aside. Meanwhile, remove the membrane at the bone side of the ribs and discard.
Put the beef back ribs in the tray with the bone side down, and spritz the top with olive oil. Then, sprinkle generously with the seasonings and pat it gently so the spices adhere.
Put the baking tray in the oven and roast for one hour, uncovered. Then, stir the marinade again and divide it into three parts. Take one part and baste the ribs with it at the one-hour mark.
Roast the ribs for three more hours, basting it with each portion of the marinade at one-hour marks. The ribs should look tender and richly browned by this time (four hours). Check for an internal temperature of 160F, and take it down if the tenderness is preferred. Or, you can let it cook at 200F for another hour to soften more.
You can also click here for a video recipe with more information.