A pork loin filet is buttery tender, juicy, and so delicious when it is perfectly seasoned and cooked to perfection in your oven. You will find that it is the ideal family dish with simple ingredients and techniques.
Notably, one of the best pieces of meat out there is the pork loin filet. It is lean meat that can be seasoned in a variety of ways. To season the pork loin filet for this recipe, you can combine a few simple pantry ingredients before roasting it in the oven for around 30 minutes.
Note that there are a few pork chops with names that sound similar. So, make sure you are purchasing a pork loin filet. Pork loin, pork tenderloin, and pork roast are not the same as pork loin filet and require distinct cooking methods.
Read on as you learn some amazing tips and a fulfilling guide on how to cook pork loin filet in the oven.
Pork Loin Nutrition Facts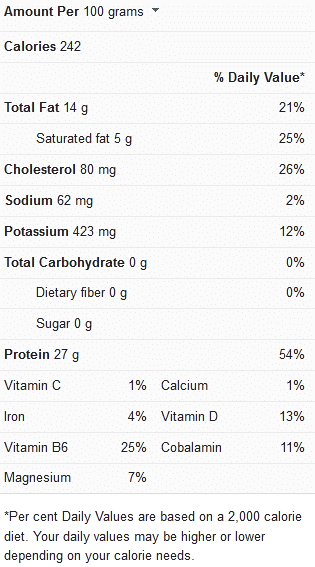 Tips on How to Cook Pork Loin Filet in the Oven
Buying the pork loin filet – Before being released into the market, the pork used to manufacture pork loin fillet is inspected by the USDA and given the "Passed and Inspected by USDA" seal to verify it is disease-free. Nonetheless, I have a tip for you. When shopping for pork, you should'd watch out for a cut with the least amount of fat and the least amount of marbling.
Seasoning – Notably, paprika, Italian seasoning, and lemon combination is fantastic. However, you may easily replace it with any of your favorites. On the baked pork tenderloin, oregano, thyme, and basil would all also be great.
If you like garlic, you can easily add 1 teaspoon of minced garlic or ½ teaspoon of garlic powder or salt to give this recipe a garlic flavor.
Butter – The cooking recipe may rely heavily on butter to keep the meat moist and tender. It may not a good idea to leave it out. However, if you must, I suggest adding additional oil to keep the pork loin filet moist.
Using a foil – I wrap the pork loin filets in heavy-duty foil to prevent the foil from ripping. I find that wrapping the pork loin filet prevents it from drying out and makes cleanup a breeze.
I cooked the pork loin filet in a baking pan because I wrapped it beforehand, but it can also be cooked in a roasting pan.
You can skip searing the pork loin filet– Before baking the pork loin filet, several recipes call for searing it in a pan. Since I don't enjoy dirtying another pan, I usually omit this step and boil the pork for a few minutes after it is done cooking to gently brown it. If you like, you can sear the pork before baking it.
How To Cook Pork Loin Filet in the Oven – Follow the steps below:
Start by preheating the oven to 375 degrees Fahrenheit.
Proceed to season the pork loin filet with your available seasoning mix.
Then sear the seasoned pork loin filet for three to four minutes – do this on each side in a heated skillet with a little olive oil.
Go on and place the pork loin filet in a roasting pan – cover it with foil – and bake it until it reaches a temperature of 145 degrees Fahrenheit. You should check the temperature using a meat thermometer in the thickest part of the meat.
Resting – You should cover the pork with aluminum foil and place it on a big dish. Then allow for a 10-minute rest period. Heat a skillet to medium heat while the pork loin filet rests. You can simmer until the apple cider has been reduced by half. You should drizzle butter over the pork loin filet and serve.
Make a pan sauce – Make a simple pan sauce for the juiciest pork loin filet. To do so, you should add around ¾ cup of liquid to the skillet. You can use apple cider, wine, chicken stock, vegetable stock, or even beef broth – which is what I used. You should cook until the liquid has been reduced by half, then add a tablespoon of butter and stir it in.
View this post on Instagram

How Long to Cook Pork Loin Filet in the Oven
To ensure that the pork loin filet does not dry out, I find that it will be preferable to cook it at a high temperature and for a shorter period in the oven. I cooked the pork loin filet at 375 degrees F for this dish.
| | | |
| --- | --- | --- |
| Preparation Time | Cook Time | Total Time |
| 10 minutes | 40 minutes | 50 minutes |
Roasted Pork Loin Filet With Herbs and Vegetables (4 Servings)
One of my best attributes of cooking pork loin filets is that they can be cooked in the crockpot, grill, oven, air fryer, or Instant Pot. Notably, you can use whichever method of cooking for this recipe.
Print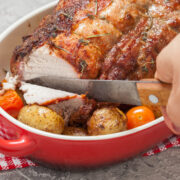 How To Cook Pork Loin Filet in the Oven
---
---
Instructions
Preheat the oven to 375°F and place the pork loin filet in a baking dish or pan.
You can arrange some prepared vegetables around the pork loin filet in a dish or pan.
You can season the vegetables with salt and pepper after drizzling them with olive oil.
Then melt the butter with the minced garlic in the microwave, then drizzle it over the top of the pig loin filet before roasting.
Go ahead and bake the pork loin filets for 30 – 40 minutes per pound of pork or until the internal temperature of the meat reaches 165 degrees.
Proceed to remove the pork loin filet and continue to boil the vegetables if they are not well-cooked by then.
You can serve your roast with nutritious sides like sweet potatoes, wild rice, and garlic roasted cauliflower or balsamic-glazed brussels sprouts with garlic for a tasty and well-rounded meal.
You can watch this video recipe to know to cook pork loin filet in the oven.