The benedictine liqueur is a herbal liqueur developed by Alexandre Le Grand, a French wine merchant, produced in France, and flavored with 27 berries, flowers, roots, spices, and herbs. This liqueur is said to have been developed by monks at the Abbey of Fecamp in Normandy. They say those monks produced it until the collapse of the Abbey by the French revolution, but this was just a plot by Alexandre Le Grand to market the drink.
Liqueur Nutrition Facts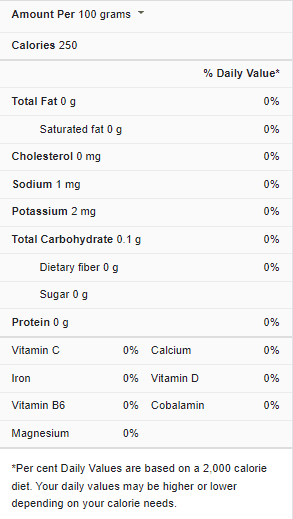 He commenced production, using a bottle with a distinct shape and label, and under the trade name "Benedictine." To further embellish his myth, he adopted the abbreviation "D.O.M" "Deo Optimo Maximo" ( To God, most good, most great), which is synonymous with the Benedictine order to dedicate their works, and placed the abbreviations on the label.
The recipe for this liqueur is a secret known by only three people at any given time. There's a "Hall of counterfeits" (salle des contrafacons) in Fecamp, with different imitations of the drink. The manufacturing process involves blending after several distillations, its recipe is truly a secret, but of the 27 herbs and spices used in making it, 21 are publicly known. Those include hyssop, angelica, coriander, thyme, tea, vanilla, honey, cinnamon, nutmeg, red berries, orange peel, lemon, lemon balm, clove, aloe, arnica, fir cones, saffron, mace, myrrh, juniper.
Uses
The benedictine liqueur has a delightful taste and is pleasantly sweet to drinks and cocktails such as Vieux Carre, Bobby Burns, and Chrysanthemum. It's rich, floral, herbaceous, and aromatic, with honey, orange peel, and baking soda notes. Cocktails lacking in weight capitalize in their silky, velvety texture to lift the vanilla, maple, and cinnamon hints found in many whiskeys. It's used as an ingredient in drinks and cocktails and used in cooking. It's used as an ingredient in marinades for meat and mushroom dishes. It's a staple in confinement dishes for new mothers. The strong liquor taste doesn't affect the dish's flavor as the alcohol content evaporates and leaves a fragrant gravy with a mild sweet taste that's perfect for rice. The benedictine liqueur is also used to simmer marinated meat stir fry dishes. This liqueur appears in so many dishes and cocktail recipes, some of which are ;
Mee suah with pork liver
Stir fry ginger chicken
Chicken mushrooms
Singapore sling
Prince of Wales
Cock N Bull special
Green blush
Big Ben
Jane Russell
Kentucky colonel
The Chuck Norris
New yorker
Queen Elizabeth
Quarter deck
A touch of summer
Raffles Hotel sling
Substitute for Benedictine Liqueur
Drambuie
This substitute is a regular go-to when thinking of replacing Benedictine liqueur. It's a golden-colored liqueur that comprises honey, herbs, spices, and scotch whiskey. It has a lovely flavor and tastes improved with the other tones. It's used to give sweet cocktails and is also perfect for cooking. It works very well to substitute Benedictine liqueur in many recipes, even with a bolder taste. It goes well on its own, too, like Benedictine liqueur, and is also used to make desserts. Drambuie gives enough room for experimenting.
Yellow Chartreuse
This is an excellent substitute for the Benedictine liqueur, and it has a similar origin profile as they're both tied to monks, France, and secret ingredients. It's the yellow variant of Chartreuse, containing 40percent alcohol and a bit sweeter than a Benedictine liqueur. It's a combination of saffron, citric, honey, anise, violet, and licorice flavor, that work well in anything that calls for Benedictine liqueur. It used to add extra flavors to recipes in cooking, especially desserts.
Green Chartreuse
This is another French-made liqueur, the green variant to yellow Chartreuse, and another great substitute. Like yellow Chartreuse, it works well in any recipe that calls for Benedictine liqueur. It's already a staple in many cocktail recipes, desserts, and chocolates and brings a nice smooth and sweet flavor, with a herbal and floral taste. It has 55 percent alcohol volume and can substitute Benedictine liqueur in most recipes.
Brandy
This is a great and easily accessible substitute for the Benedictine liqueur, maybe not in drinks but cooking. Brandy is also a cheaper substitute as you can get a cheap bottle around you. It works very well to replace Benedictine liqueur in cooking sweet and savory dishes. It's a very versatile drink that's especially good for making pasta with prawns, puddings, chicken mushrooms, and flambéing.
Glayva
This is an excellent substitute for a Benedictine liqueur that dates back long ago. It's made in Edinburgh, a mix of scotch and spices, with almond, cinnamon, honey, and tangerine flavors. It's unique in flavor and color, with a deep golden color. It's a generally accepted and used cooking spirit that can be used in many ways when cooking, as it adds tastefulness to any dish.
Frequently Asked Questions (F.A.Q.s)
Is benedictine a cognac?
As the name implies, the Benedictine liqueur is originally a liquor. But years after its production, in the 1930s, a drier version mixed with Brandy was created and named Dom Benedictine B&B.
Can you drink Benedictine straight?
Benedictine is a versatile drink that's complex and delicious. You can drink it straight after dinner or mix to better the taste.
Do I need to refrigerate Benedictine?
Benedictine is a lower-proof liquor, and this means it's prone to spoilage, and bartenders like to refrigerate it to improve its shelf life if you're not sure how long you want to drink it for. But if you're sure you'll finish it in a few months, you can keep it at room temperature as long as it's tightly corked.
Conclusion
The benedictine liqueur has stood the test of time, conquering many cooking and cocktail recipes. It serves several purposes and is highly sought after by many. Not having such an essential and versatile ingredient when your recipes call for it can be a headache, but other drinks like it are as old, versatile, flavorful, and delightful. Above is a list of other ingredients that can bring your recipes to a near-perfect match, as when you use Benedictine liqueur, choose from them and enjoy your drinks and dishes.