Not everyone is looking to shed some pounds. Some require a weight gain meal, probably because they need to go back to their ideal body physique after surviving a critical illness or building their muscles. Being underweight could be a result of different reasons. It could also be a result of poor nutrition. You have no cause for alarm. It is just the imbalance of your metabolism. Preparing a healthy meal plan like this will provide the necessary nutrients for better body functioning because dealing with weight gain and making proper nutritious meals are crucial and in need of full attention.
Features
Female bodybuilders mostly use this meal plan. You have to eat more calories than you burn through your daily activities to get your desired goal. Since the goal is to gain a healthy weight, this cannot be achieved by eating junk food. Truthfully there is a possibility of gaining weight faster by taking junk and street foods, but this can cause sudden illness since the weight gain was not from a healthy source, unhealthy fats stored in the body can cause illnesses. Improper metabolism of nutrients, genetics, lack of food (frequently due to poverty), or taking drugs that affect appetite may be the cause of being underweight. This meal plan helps in gaining a healthy fit.
Benefits
This 7-day weight gain meal plan pointed out one example of achieving a high protein and calorie intake, which is from healthy energy-giving foods such as fruits and vegetables, lean meat, dairy, eggs, seeds and nuts. These energy-giving foods will help you with delicious and nutritious meals while you work towards achieving your weight gain goals. This weight gain plan for underweight females can be easily followed. Here the foods containing high calories are added, combined with the right nutrients, minerals and vitamins required by your body. Meals in this list are easily affordable and found in your local markets.
Any individual with a medical issue should seek advice from a medical practitioner before changing their diet. They would be advised whether their body is suitable to follow through with the diet.
Meal Plan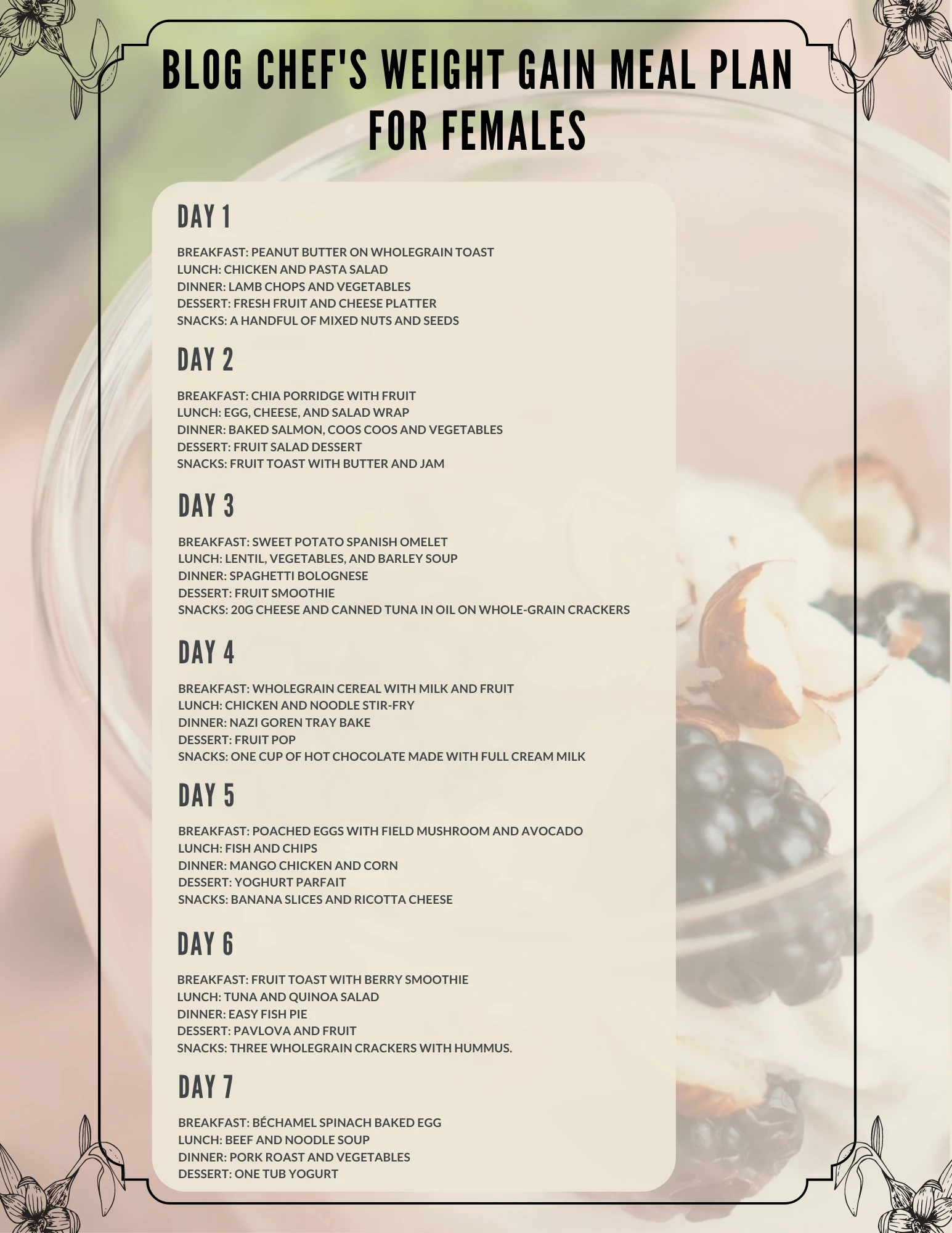 Download Here: Blog chef's weight gain meal plan for females
Day 1
Breakfast
Lunch
Dinner
Dessert
Fresh Fruit and Cheese Platter
Snacks
A handful of mixed nuts and seeds.
Day 2
Breakfast
Lunch
Dinner
Baked Salmon, Coos Coos and Vegetables:
Dessert
Snacks
Fruit toast with butter and jam.
Day 3
Breakfast
Lunch
Lentil, Vegetables and Barley Soup
Dinner
Dessert
Snacks
20g cheese and Canned tuna in oil on whole-grain crackers.
Day 4
Breakfast
Wholegrain Cereal with Milk and Fruit
Lunch
Dinner
Dessert
Snacks
One cup of hot chocolate made with full cream milk.
Day 5
Breakfast
Poached Eggs with Field Mushroom and Avocado
Lunch
Dinner
Dessert
Snacks
Banana slices and ricotta cheese
Day 6
Breakfast
Fruit Toast with Berry Smoothie
Lunch
Dinner
Dessert
Snacks
Three wholegrain crackers with hummus.
Day 7
Breakfast
Béchamel Spinach Baked Egg
Lunch
Dinner
Dessert
Extra tips
Eat up to 5 different types of fruits and vegetables daily. This promotes a healthy heart.
Base your meals on rice, pasta, bread or other starchy carbohydrates. Choose wholegrain whenever you should.
Start consuming dairy products like greek yogurts and whole milk until you get your weight built back up.
Avoid processed food and always eat healthy proteins like beans, fish, eggs, meat and other protein. Instead, you should focus on two portions of fish weekly.
Choose unsaturated oils and spreads, such as sunflower or rapeseed, and eat them in small amounts.
Drink plenty of fluids after each meal; It has been recommended that 6 to 8 glasses a day is helpful for proper digestion.
Try not to drink water before your meals to fill your stomach and make it easier to get in enough calories. This is quite important.
Eat more often, take milk, or add full cream to your coffee.
Try out some weight gainer shakes and avoid sugary drinks that give unhealthy fats.
Get quality sleep: sleeping and waking up at the right time is underestimated. The importance of sleep to the body system is for the greater good. It helps in facilitating the body's normal processes.
Conclusion
When looking at a weight gain food list for bulking up, there are several options to take that can be the foundation for a healthy high-calorie diet. First, always have it in mind to be smart about when you eat certain foods during the day. Because taking supplements and pills alone will not be enough to gain the weight you need without a diet that is focused on upping your intake of calories, Which is why this meal plan is important, if you don't eat enough food and get enough calories, gaining weight is next to impossible.