Stovetop chicken wings are the easiest and fastest meal to prepare for any occasion. You can make these in less than 30 minutes, and it fits into any diet, whether gluten-free, dairy-free, low carb, keto-friendly, Whole30, or paleo, depending on the ingredients you choose to pair with it.
What's not to love about this recipe? It produces the most delicious chicken wings with crispy on the outside and juicy on the insides type of texture that you can eat as appetizers or pair with several other delicious recipes like roasted vegetables, keto broccoli salad, mashed potatoes, or tasty sauces and dips.
Pan-frying these chicken wings is the best method for busy nights; it needs just a few seasonings, cooking oil, and a pan to make, so if this is your first time making this recipe, there's no need for concerns because it is going to come out great, all you have to do is follow these cooking tips, procedures, and time.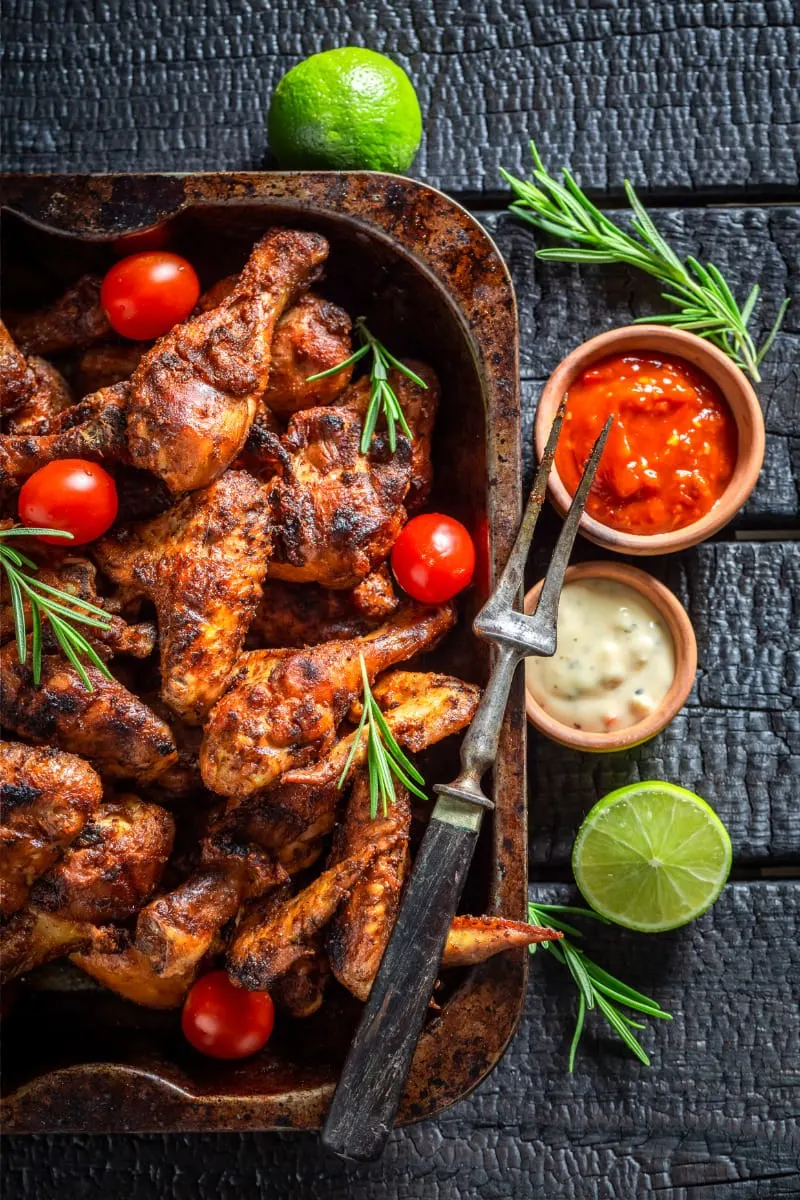 Tips to Note When Making Chicken Wings on the Stove
Chicken wings are not complicated to make, but it is still important to note these few tips because they will guide you when you're making yours.
Thaw the chicken if frozen; if the chicken has been frozen for a long time, thaw them overnight in a refrigerator or place them in cold water for a few hours while changing the water every 20 minutes until it properly defrosts.
Make sure the chicken wings are dry before searing; after cleaning the chicken, it is important to dry the excess moisture on the skin with paper towels or a clean towel before you put them in the hot pan.
Pay close attention to the chicken or use a meat thermometer to check for doneness; you could check for doneness by paying close attention to the meat; it should be ready when the juices run clear and there isn't any blood around the meat, but If you have a meat thermometer insert it into the thickest part of the chicken when the cooking time is up to check for doneness, it should be about 165°F.
To marinate or not, whether you choose to marinate the chicken or not, the recipe would still be delicious but marinating it overnight, for a few hours or a few minutes, makes it more tender and allows the chicken to evenly absorb all the flavors from the spices before cooking.
If you'd love to get enough flavors inside and outside the chicken in a short amount of time, then use a marinade injector and inject small amounts of the marinade inside each piece of chicken; you could use any extra marinade to rub on the outside of the chicken and let them sit in the refrigerator for a few minutes before cooking. If the marinade has any solid parts, then blend it first before injecting it.
To cover the pan or not; this tip can be used depending on the texture you want for the chicken wings; if you close the lid of the pan, the heat inside would easily tenderize the chicken and make it softer and juicy, but if you cook uncovered the chicken would be crispier and less tender.
You could coat the chicken with flour and use a cast-iron skillet instead of a non-stick pan if you want them crispier on the outside.
Buy already cut wings or cut them yourself; when shopping for chicken wings, look for the ones that have been cut into drumettes and wingettes, but if you can't find one, just cut them yourself into equal parts, so they cook at the same time.
Ideas on what to serve these chicken wings with; this recipe can be easily customized to fit your taste buds; you can serve them with sauces like BBQ sauce, wings sauce, teriyaki sauce, or a homemade sauce; some people coat them in sauce and cook for a minute or two just so the chicken absorbs the flavor well.
You could also serve with dips like blue cheese dip, sour cream, garlic parmesan, and buffalo sauce. Use veggies like celery and carrot sticks, boiled broccoli, mixed vegetables, Potatoes, etc. Or with recipes like mac and cheese, rice, burgers, pasta, etc
Cooking Time for Chicken Wings on the Stove
The table below shows the estimated cooking time for making chicken wings on the stove.
| | |
| --- | --- |
| Cooking method | Cooking time |
| Cooking chicken wings on a stove | 30 minutes |
Print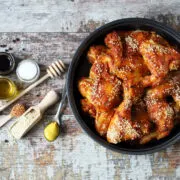 Stovetop chicken wings (4 servings)
---
---
Instructions
Start by cutting the meat (if whole) into drumettes and wingettes, then wash them and pat dry with some paper towels or a clean kitchen towel.
Pour the chicken into a bowl and add the seasonings; add the salt, black pepper, 1 tablespoon Smoked Paprika, 1 teaspoon Onion powder, 3 minced garlic cloves, or 1 teaspoon garlic powder, 1 teaspoon Cayenne pepper or chili powder, and ¼ teaspoon nutmeg powder.
Mix the spices into the chicken wings and set them aside, you could season them early and place them in a refrigerator so the flavors get into the chicken well but if you don't have much time then just set them aside for now.
Take a large cast-iron skillet and place it on medium-high heat, add some cooking oil (preferably one with a high smoke point).
Place the chicken into the hot pan with the fatty or meatier side down first and fry for about 10 minutes until it gets brown and crispy, flip it over with cooking tongs, and cook for an additional 5-8 minutes until it's brown and crispy also.
When the time's up, use a meat thermometer (if you have one) to check if the internal heat temperature is up to 165°F.
Remove the chicken wings from the pan and set it aside, then deglaze the pan with some already made sauce, or use hot sauce, brown sugar, vinegar, and ketchup to mix inside the pan to make the sauce.
Add the chicken wings again into the pan and mix them with the sauce, cook for a minute or two and serve.
You could sprinkle some vegetables like parsley or eat it with other side dishes.
This recipe is easy to achieve once you follow these directions but if you want to see more ideas or inspiration on chicken wings on a stove, check out this video recipe.