Tapioca is a starch extracted from the cassava root, tapioca is almost pure starch. It's naturally gluten-free, so it can serve as a wheat substitute in cooking and baking for people who are on a gluten-free diet.
Tapioca is a dry product, therefore can be found in white flour, flakes, or pearls. The tapioca flake is known as instant tapioca. Instant tapioca is not the most common tapioca you can find and it's a type of tapioca that can't be kept for a long period.
Luckily, there are a lot of Substitutes for this Tapioca, in case you need tapioca and instant tapioca can't come in handy. These alternatives are much easier to find and can even be kept for a long period of time, they also work so well you might even prefer them to the instant tapioca you think you need.
Best 3 Instant Tapioca Substitute
What is Instant Tapioca?
As mentioned earlier, instant tapioca is the tapioca flake and it is also known as quick/ minute tapioca. It is a thickening agent. It is made from the root of cassava and has been processed into small granules that only need soaking for about 5 minutes before use. They have a neutral flavor and a strong gelling power, they are the best thicker in the ice cream.
Instant tapioca is majorly used as a thicker in soups, stew and to add texture and moisture to baked goods. When cooking with instant tapioca, bear in mind that the granules will not dissolve completely while cooking, so you will have tiny granules in any recipe that contains tapioca.
Instant tapioca doesn't have any health benefits but does not have any effect either. it may sometimes be useful for people who need to avoid grains or gluten. When using instant tapioca, simply whisk a little into whatever you want to thicken and instant and tapioca retains its texture even when frozen.
Substitutes for Instant Tapioca
There are various substitutes for Instant tapioca, ranging from other types of tapioca to other alternatives such as cornstarch, arrowroot, and potato starch. These alternatives are just perfect when you run out of instant tapioca or you could not lay your hands on it.
Tapioca flour
Tapioca flour is a type of tapioca that has be dehydrated, it is sometimes referred to as tapioca starch. Tapioca flour is very neutral, so it can be used in dishes with delicate flavors. It thickens at a lower temperature than most starches, as little as 126°F so mostly it's used for delicate ingredients that don't need boiling.
Tapioca flour is often mixed with other flour in recipes to enhance its nutritional value and texture, Tapioca flour is flavorless, very fine, and not very dense—which makes it a good candidate for mixing into and cutting some of the heaviness of homemade gluten-free flour mixes.
When substituting tapioca flour for instant tapioca, for every 1 tablespoon of instant tapioca use 1 1/2 tablespoons of tapioca flour, mix the flour with any dry ingredient in an uncooked pie filling. Or mix the flour with a decent amount of water to form a light paste and then heat in a precooked pie filling. Put the pie filling back and continue heating until the cloudiness turns transparent.
NOW Foods, Organic Tapioca Flour, Gluten-Free and Non-GMO Flour Replacement, 16-Ounce (Packaging May Vary)
GREAT SUBSTITUTE FOR WHOLE WHEAT FLOUR: Many people are surprised to learn that tapioca is used for more than just pudding. Derived from the root of the cassava plant, NOW Real Food Organic Tapioca Flour is a fantastic thickening agent that's gluten-free.
EXCELLENT FOR BAKING: Tapioca flour is widely used to make soft, tender baked goods, including breads, cookies, cakes, biscuits, and more.
THICKENING AGENT: Excellent addition to baked goods with a high liquid content, such as fruit pies, since tapioca absorbs moisture and is commonly used as a thickening agent in soups and sauces.
Keto-Friendly;Gluten Free;Kosher (CRC);Non-GMO Project Verified;Terracycle;USDA Organic
Packaged in the USA by a family owned and operated company since 1968.
Cornstarch
Cornstarch is another alternative to use in the absence of instant tapioca. Cornstarch is made from a kernel of corn. It is another good alternative for instant tapioca, as it is also a thickening agent.
Cornstarch performs well in a recipe that requires a long cooking time, the longer cooking, the thicker the recipe. However, be careful not to use it with highly acidic or sugary recipes because it can lose its thickening ability, resulting in a chalky product, and also cornstarch does not work well with frozen dishes.
The amount of corn starch to use for your recipe is equivalent to the amount of instant tapioca in the ratio 1:1 i.e. 1 tablespoon of cornstarch will be used in place of 1 tablespoon of instant tapioca. Mix 1 tablespoon of cornstarch with a little water to form a light paste, then add it to a liquid in the recipe.
Arrowroot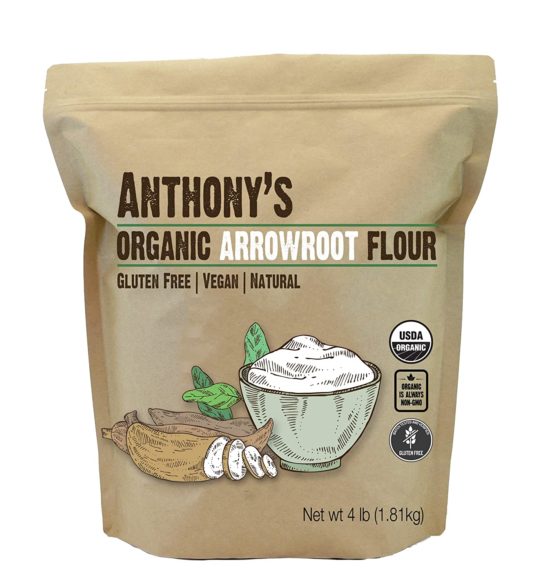 This is another great alternative for instant tapioca as they are both gotten from a similar root and it has a neutral-tasting. Arrowroot will thicken up the filling just as well as instant tapioca will.  The fact that arrowroot contains the same starch as instant tapioca makes it and one of the best substitute. Arrowroot does not require the boiling temperature to thicken.
Arrowroot is also equivalent to instant tapioca in the 1:1, so in place of 1 tablespoon of instant tapioca use 1 tablespoon of arrowroot. Mix the arrowroot in water to form a paste before adding it to a liquid in the recipe. Arrowroot works well when thickening an acid mixture, such as lemon pudding or a fruit-based recipe, and can also work well with frozen dishes.
Hoosier Hill Farm Premium Arrowroot Powder Pound, 16 Oz
1 Pound jar, sealed to preserve shelf-life and freshness
Arrowroot Powder is used as a thickening agent for sauces, fruit pie fillings and glazes, and puddings; Arrowroot Flour, Arrowroot Starch or Obedience Plant
Arrowroot starch is an advisable replacement for wheat flour and has twice the thickening power; It is tasteless and becomes clear when cooked, and unlike cornstarch, it doesn't have a chalky taste when undercooked
Arrowroot mixtures thicken at a lower temperature than mixtures made with flour or cornstarch; Two teaspoons of Arrowroot can be substituted for 1 tablespoon of cornstarch; One teaspoon of Arrowroot can be substituted for 1 tablespoon of flour
Hoosier Hill Farm is located in America's heartland of northeast Indiana; Our products and ingredients are guaranteed fresh and we are proud of our heritage and good, old-fashioned values
Potato Starch
Potato starch is not really a common substitute but it is also an excellent thickening agent that can be used instead of instant tapioca. It is also gluten-free. It is made from the root of a plant. Potato starch is tasteless so you don't need to worry about having the potato sweetness.
Potato starch is equivalent to instant tapioca by the ratio of 1:2, replace 2 tablespoons of instant tapioca with 1 tablespoon of potato starch. Mix the potato starch with any dry ingredient of the recipe after you've added the liquid ingredients. Just like arrowroot, potato starch does not need boiling temperature so, do not boil potato starch.
Frequently Asked Questions (FAQs)
Is Tapioca flour the same as Tapioca starch?
yes, the two are the same as they follow the same method but the name given to them is dependent on their brand
How can I replace Instant tapioca with wheat flour?
Replace instant tapioca with wheat flour by ratio 1:1 i.e. 1 tablespoon of instant tapioca is equivalent to 1 tablespoon of wheat flour.
Is tapioca flour gluten-free?
Tapioca flour is gluten-free and it is recommended for those on a gluten-free diet.
can Instant tapioca, Tapioca flour, and tapioca pearl be used interchangeably?
yes, they can be used interchangeably but there are rules that guide this process. The ratio in a recipe is different, while instant tapioca is to be boiled for about 5 minutes, pearl tapioca has to be boiled for 15 minutes, tapioca flour might not even need boiling. So if you can follow the rules that guide them, you are good to go.
Conclusion
Thickening agents are not really common but they have a purpose to serve, these substitutes listed above can be used to substitute each other perfectly when you follow the rules that guide each of them. They are not difficult to get and you can always try them out in your next recipe that involves a thickening agent.