You're in charge of dinner tonight, and you've settled on cooking oxtails in your pressure cooker, but there's one tiny problem: you don't really know how to go about the processes involved. Well, worry no more! If you're looking for how you can get the very best results with oxtails so it turns out tender and juicy, then you've come to the right place.
In this article, you'll be learning firsthand all the necessary tips, instructions, and guidelines you should always keep in mind whenever you want to make oxtails in a pressure cooker. Ensure you pay attention to all we have for you below.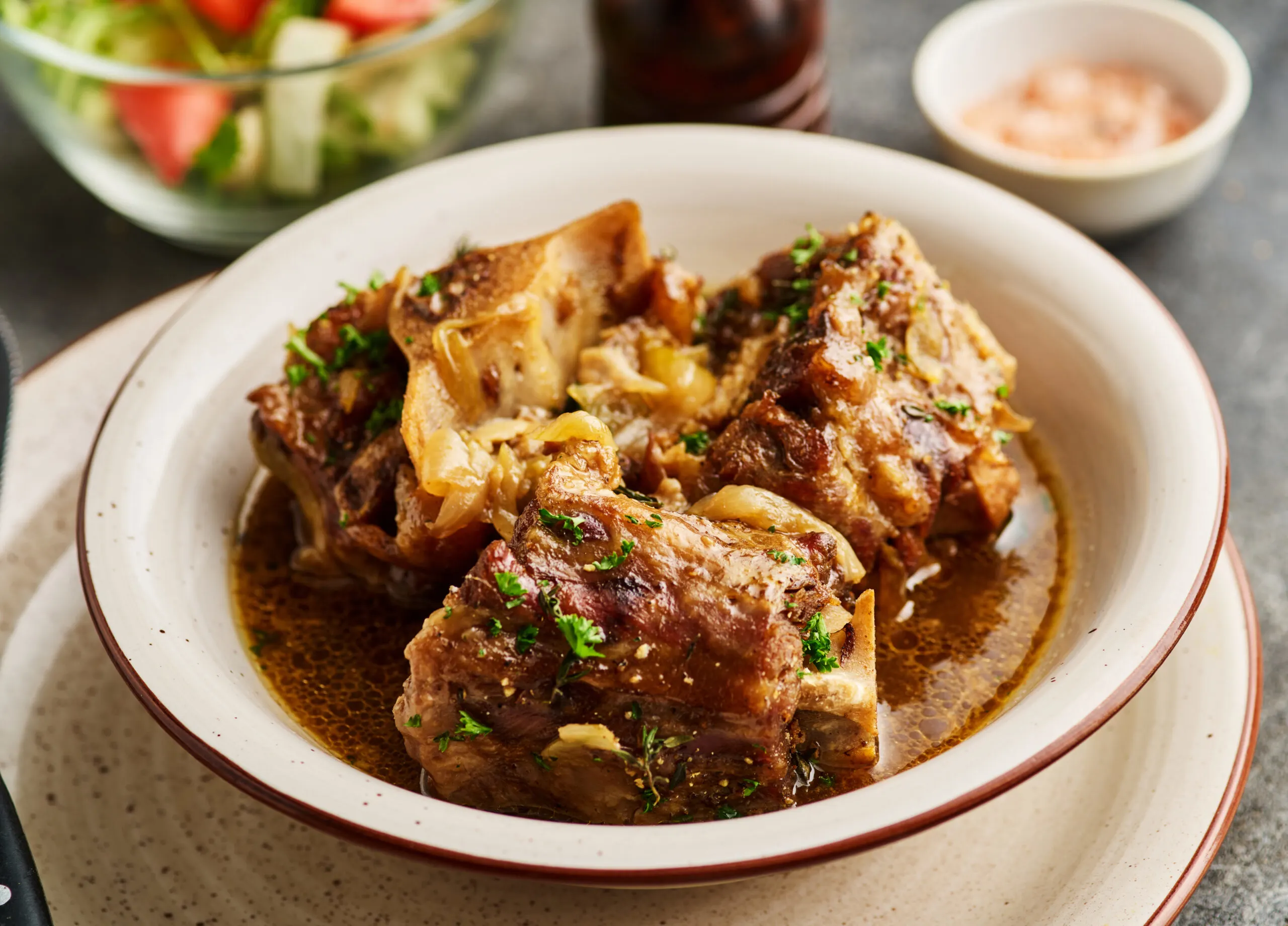 Cook Oxtails Nutrition Facts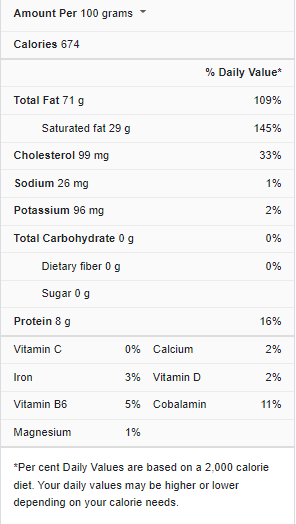 Tips for Cooking Oxtails in a Pressure Cooker
Make a rub – for flavoring the oxtails, you can choose to buy a rub from the supermarket or make your rub at home. The homemade rub is way better, in my opinion, because you can add or subtract the amount of any ingredient you're adding in. You can also make it in larger or smaller quantities, and it's guaranteed to be fresh.
Wash the oxtails – oxtails are sometimes tricky to wash cause they contain lots of grime or dust. To ensure your meat is thoroughly cleaned, wash it in clean water and vinegar, and scrub clean with half a like or lemon until you're satisfied with its color. You can also put it in another bowl of clean water to check if it runs clear.
Use some oil – to give a nice sheen and glaze to your meat when searing them, add in about 2 tablespoons of cooking oil. It could be olive oil, vegetable oil, avocado oil, etcetera. Just use what you have at hand or are comfortable with the most.
Don't overcrowd your cooker – overcrowding the pressure cooker with oxtails will prevent all the oxtails from reaching the oil to sear properly. Instead, to ensure that they are properly seared, cook them in batches; it doesn't take a lot of time for the oxtails to turn brown, too, so you can put 3 or 4 in a batch, depending on their sizes.
Sauté your vegetables – before making the gravy for your oxtails, sauté your vegetables in butter for an excellent flavor and aroma. The benefit of having a pressure cooker is that you can use it for almost every cooking process, but in this recipe dish, you can use the pressure cooker for everything, so there's no need to use a pan or pot.
Use lesser water – when cooking with a pressure cooker, you'll have to use a lesser amount of water than you'd use with a stovetop. You're making the gravy like a stew and not a soup, so it doesn't have to be too much. Too much water might overpower or neutralize the seasonings on your meat and cause them to taste plainer than they should've been.
View this post on Instagram

Cooking Time for Oxtails in a Pressure Cooker
We've compiled the necessary timing guidelines you should keep in mind whenever you're cooking oxtails in a pressure cooker below.
| | |
| --- | --- |
| Cooking procedure | Cooking time |
| Cooking oxtails in a pressure cooker | 1 hour |
Print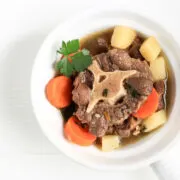 Oxtail Stew Recipe (4 to 5 servings)
---
1

packet (3 lbs) of oxtails

1

red bell pepper, diced

1

green bell pepper, diced

1

yellow bell pepper, diced (optional)

1

medium tomato, diced

2

stalks of celery, diced
Green onions, chopped

1

medium white onion, diced

2

carrots, chopped

1 tbsp

minced garlic

1 tbsp

Worcestershire sauce

1 tbsp

brown sugar

1 tbsp

soy sauce

2 tbsp

ketchup

2 tbsp

cooking oil, any kind

2 tsp

browning sauce, any kind

1 tsp

ground pepper

1½ tsp

seasoned salt

1 tsp

onion powder

1 tsp

garlic powder

½ tsp

cayenne pepper

1 tsp

smoked paprika

2

–

3

bay leaves
Thyme, 2 sprigs
Rosemary, 1 sprig

2 cups

beef broth

½ cup

red wine
---
Instructions
Combine the diced peppers, celery, carrots, and white onion in a bowl. Set them aside.
In a small bowl, add the season salt, pepper, garlic powder, onion powder, smoked paprika, cayenne pepper, and brown sugar. Mix together well with a fork and set aside.
Wash your oxtails as proposed in the tip above. Soak it in water and vinegar for 20 minutes or so and then pat it dry with some paper towel. Place your oxtails in another bowl, then add 1 tbsp of Worcestershire sauce, 1 tbsp of soy sauce, 2 tsp browning sauce, and your homemade seasoning rub. Mix everything with the oxtails until they are completely coated in the seasoning. Set the oxtails aside.
In your pressure cooker, add the oil and set to saute at the highest temperature. Add your oxtails into the cooker and sear them on each side for a minute. Remember not to overcrowd the pot, and cook in batches instead if necessary.
Once you're done searing the oxtails, take them out and set them aside. Add 2 tbsp of butter into the pressure cooker and use the butter to deglaze the bottom of the pan. Once the butter starts to melt and you've deglazed the pan, set the heat to normal.
Add your mixed vegetables into the pan and saute for 5 minutes. Add some minced garlic and saute with the veggies for a minute. Add in 2 cups beef broth, ketchup, red wine, about 3 bay leaves, sprigs of thyme and rosemary, and your diced tomato and green onions. Mix together until it's well combined.
Add your meat into the mix and close the lid of the pressure cooker. Click on the meat/chicken button (cause that cooks oxtails best) and set it to cook for 45 minutes. After 45 minutes, open the vent in the pressure cooker to let off some of its steam so you don't burn yourself.
Remove some of the melted fat from the too with a spoon. Then remove your details and set them on a plate. Pull out the bay leaves, thyme, and rosemary springs and discard them. Add a mix of cornstarch and a little bit of water to the gravy to make it thicker. Set your pressure cooker back to saute and cook the gravy at normal temperature. Stir consistently.
You can taste the gravy to check if it needs any more seasoning. Next, add the oxtails back into the pressure cooker and cook for a few more minutes. After the oxtails have mixed well with the gravy, turn off the pressure cooker.
Your delicious oxtails are ready to be eaten. You can serve it along with some rice and salads. Enjoy!
If you're interested in more tips for cooking oxtails in a pressure cooker, ensure you watch this video.