When we talk about calorie deficit, the number of calories a person includes in their consumption a day is way smaller than the number of calories they burn, either with their normal routine or exercises. This process aids in weight loss. And it is necessary to go with a calorie-deficit meal plan to lose weight.
In maintaining a calorie deficit, you must eat less than you burn in a day. More so, Fitness trainers would advise a calorie deficit of 500. And with this special method, your body would receive the required calories to perform its daily functions. Also, at the same time, the deficit will help your body make use of its unused energy, which has been deposited to carry out additional functions and promote weight loss.
Features
The meal plan features are very simple and straightforward, and it is to do whatever you can to make sure your daily calorie intake is less than what your body needs to survive daily. The simple reasoning behind this is that when the body is deprived of excess energy, mostly eaten and drinking, the body is forced to use its reserved energy. This, in turn, causes the person undergoing the calorie deficit plan to start losing weight slowly.
It is important to consult the doctor before starting any meal plan journey, especially one that involves eating less food than you are used to daily. Also, make sure to prepare your body for the change by slowly cutting down on calorie intake, so your body does not go into a shock and ultimately reject the calorie-deficit diet.
This meal plan has to be very low calorie, which means lower than average, so even when adding snacks or desserts, it would not ruin your goal calorie for the day. The meals in this plan are healthy, and however, it does not require a long list of ingredients or any unusual cooking method. The recipes are simple and easy to find; therefore, you don't have to spend long hours in the kitchen.
While creating a calorie deficit and losing weight seems simple, many people struggle with the process because it's not as easy as it seems. The good news is that you don't have to starve yourself any longer. Instead, follow these three easy steps, eat less food, get active and follow the proper diet.
Benefits
Various factors can be the determining number of calories that need to be cut off, factors of which could be your height or weight or even the extent to which you are physically active. Before you start this diet plan, make sure to consider your preferences and tastes. For example, try to take notice of any allergies you might have when choosing foods for your meal.
I would like you to keep in mind that you might not need a calorie deficit at all. You may only try it if you wish to lose weight for any medical reasons. It is advisable to always discuss with your doctor before starting any weight loss plan whatsoever, especially if you are battling other health problems. The seven-day meal plan featured below will provide you with adequate nutrients: protein, healthy fats, carbohydrates, fiber, and other essential nutrients required for weight loss. The nutrients conjoined with regular exercises will help increase the amount of fat burned daily. Do not forget to adjust this sample meal plan to meet your needs so that cravings don't get in the way of your weight loss goals.
Meal Plan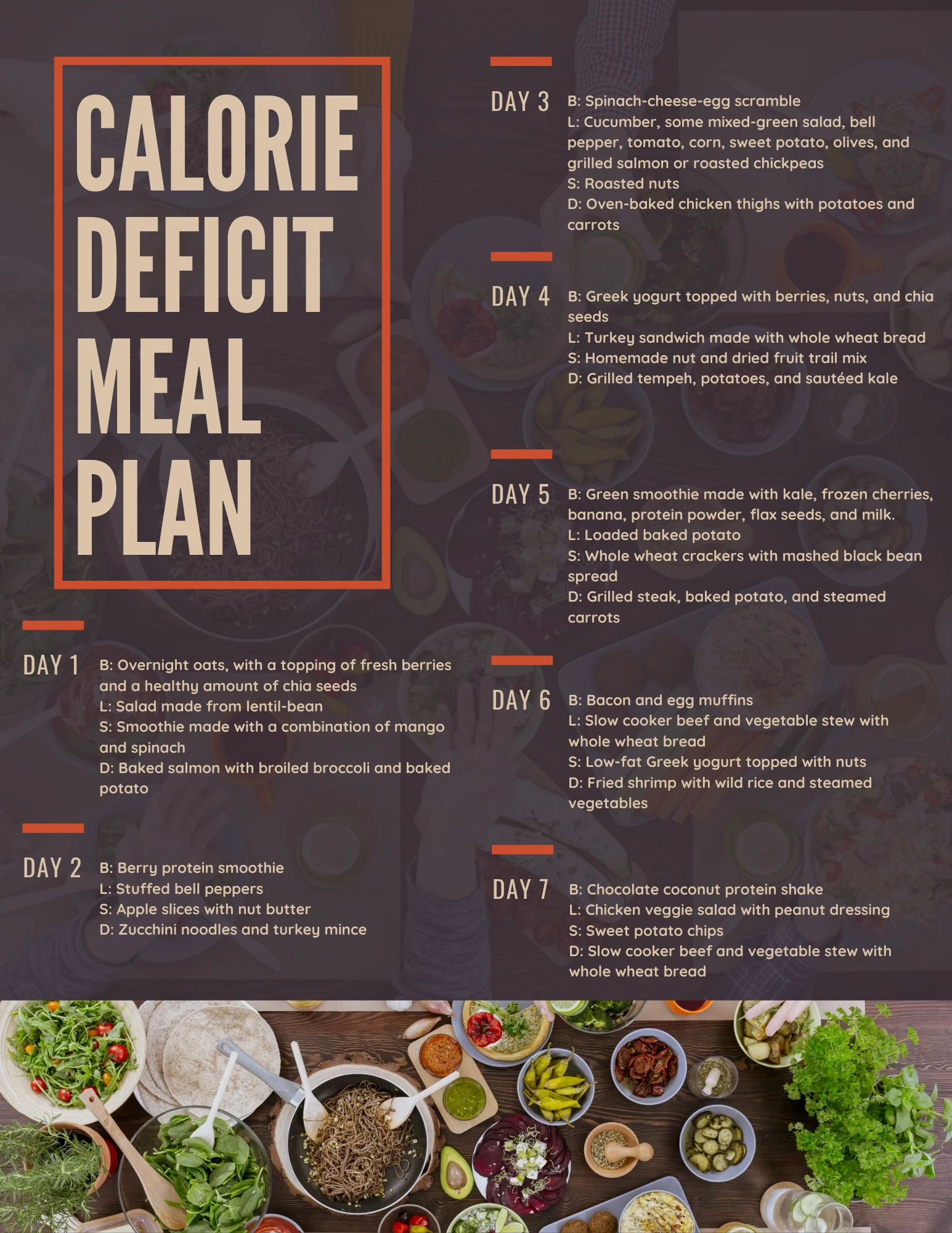 Download Here: Calorie deficit meal plan
Day 1
Breakfast
Lunch
Snack
Dinner
Day 2
Breakfast
Lunch
Snack
Dinner
Day 3
Breakfast
Lunch
Snack
Dinner
Day 4
Breakfast
Lunch
Snack
Homemade nut and dried fruit trail mix
Dinner
Grilled tempeh, potatoes, and sautéed kale
Day 5
Breakfast
Lunch
Snack
Whole wheat crackers with mashed black bean spread
Dinner
Day 6
Breakfast
Lunch
Snack
Low-fat Greek yogurt topped with nuts
Dinner
Fried shrimp with wild rice and steamed vegetables
Day 7
Breakfast
Lunch
Chicken veggie salad with peanut dressing
Snack
Dinner
Slow cooker beef and vegetable stew with whole wheat bread
Extra Tips
When going on this meal plan, try to avoid consuming sugary drinks and trans fat.
If you are not active, you should try to increase your daily activities through simple activities like walking or taking the stairs instead of the elevator.
Try to have a steady intake of water throughout the day. This will help with your frequent hunger pangs and will also hydrate you.
Always opt for healthy food items and avoid fried and sugary foods at all costs. Make your meals in minimal oil.
Try eating at least different types of fruits in a day.
Try to space out your meals breakfast, lunch, snacks, and dinner wisely and give a gap of 3-4 hours between each meal.
Paying close attention to your portion size is advisable. Take a small portion of food, just enough to fill your stomach about 80% and not more.
Having early dinner around 7 pm or maximum by 8 pm helps aid weight loss and prevent acidity, indigestion, and more.
Conclusion
Creating a calorie deficit is very helpful for a person who wishes to lose weight. As we all know, calories are also known as energy, and the body stores calories in the body as fats until they are used up. So, you should burn down calories by taking fewer calories than you burn or exercising. To get a quick and effective result, the combination of diet and exercise is the solution. So, it would be best to focus on eating highly nutritious food, drinking more water, and exercising regularly.
Online, calculators are available to help people calculate how many calories they burn per day. This makes it easy for a person can assess how many calories they should eat to create a calorie deficit. For example, a person should aim to lose no more than 1–2 lb per week to avoid serious health issues associated with not getting enough nutrients in the b