Staying healthy when expecting a baby isn't for the child's benefit alone. As a soon-to-be mother, your body will need the right dose of nutrients and supplication to complete the task of childbearing. And even after that, the journey of breastfeeding commences, so you'll need to prep yourself for it as well. And having the right diet plan is one way to stay ahead of the challenge.
This pregnancy meal plan offers all you need during such time and more. It considers your body and combines the ideal foods and items needed to cater to you and the unborn child.
Features
This meal plan features a collection of healthy foods and shakes to keep your body refreshed and supplicated throughout the pregnancy period. As the baby develops, it takes essential material from the mother's blood to grow and survive. So, with this plan, the baby gets all the requirements daily, and you stay in tip-top shape as you go along.
You'll also note that the diet plan offers three meals a day, with a collection of snacks in between the meals. The eating is also non-restrictive, meaning anything and everything considered appropriate for the pregnant woman is permitted. Of course, the diet plan excludes processed foods and items heavy with additives to keep the meal plan as healthy as possible.
Benefits of this Diet
This pregnancy meal plan combines the best and healthiest vegetables with rich fruits and energetic foods. It features a large amount of protein from plant and animal sources and healthy fats and carbs from good oils, whole grains, tubers, and beverages. And it doesn't go easy on the veggies either, as each day includes a vegetable-rich recipe. The goal is to let the body take in as much energy and nutrients as possible for both mother and baby. And because these foods are whole and natural, the mother is certain about feeding her developing fetus only the right items.
This pregnancy meal plan works well for paleo enthusiasts because of the food type. And it can also be adjusted to suit Mediterranean diets should the user feel so. Pregnant women with gluten sensitivity can also confirm the presence of certain foods before proceeding. Then, they can replace it with appropriate substitutes that will do the same thing in the diet plan.
Weight loss isn't the main goal during pregnancy, as both you and the unborn child need all the calories you can get. But it doesn't mean you can stay healthy while expecting. As such, you can combine this meal plan with simple exercises suited for pregnant bodies. While these activities aren't strenuous, they'll help keep your body limber, burn excess calories and encourage maintenance of a healthy shape and size while carrying a child.
The meal plan is also designed to suit various calorific needs based on the weight condition of the mother. For example, on average, the meal plan can be planned at 2,200 calories, but this is reduced by 200 calories for overweight individuals. And those underweight are recommended to begin at 2,400 calories to supplement the needed nutrients during pregnancy, especially around the second and third trimesters.
As with any diet plan, it's always recommended to indulge in it under your dietician's doctor's supervision. Pregnancy is a difficult period for a woman, and every detail must be observed and scrutinized so mother and child stay in shape. While this meal plan may not be calorie-restrictive, it's still subject to reevaluation by a professional health consultant because it's for pregnant people. The medical adviser will analyze the foods and compare them with your dietary needs, then counsel you on the best ways to go about the diet.
Meal Plan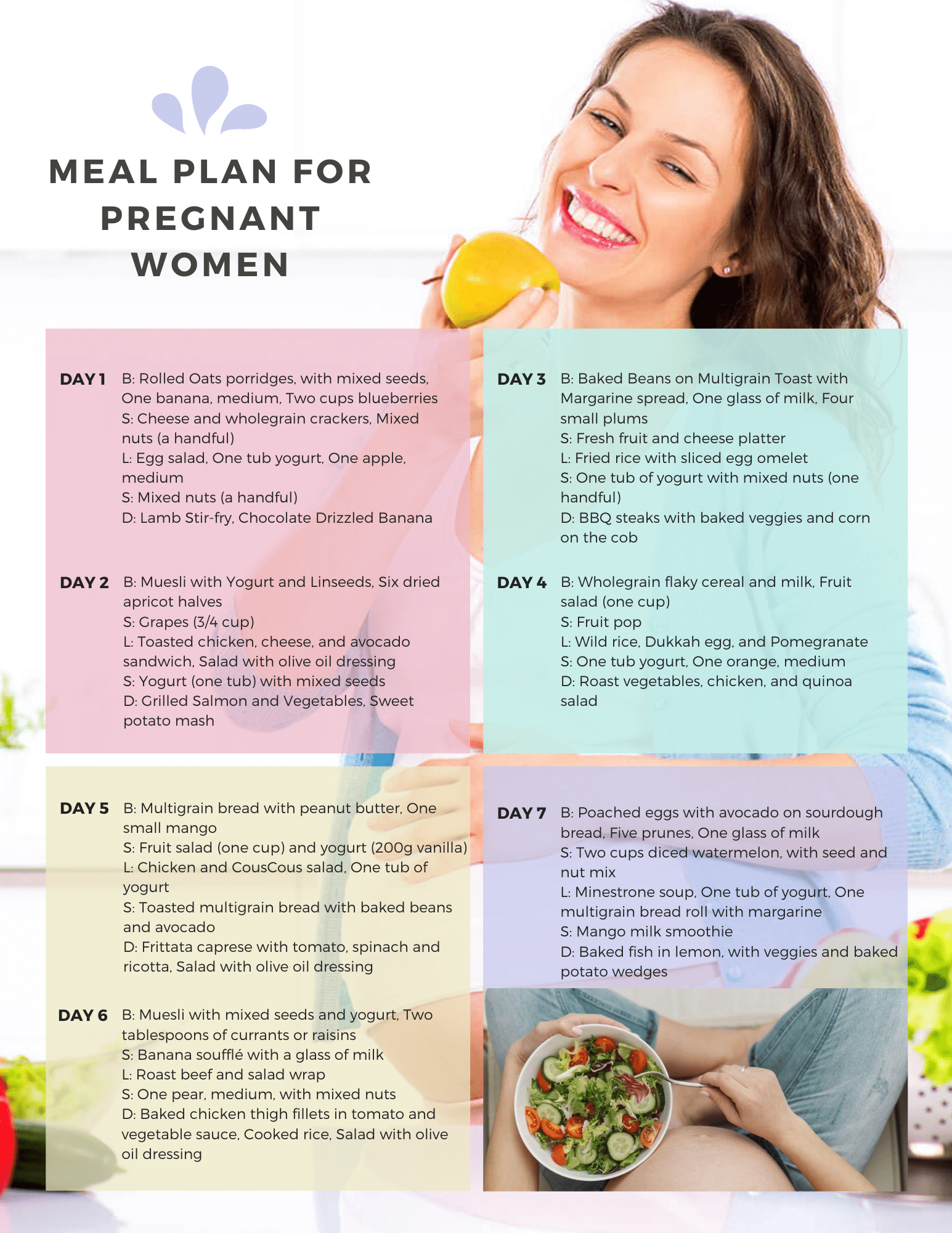 Download Here: Meal Plan for Pregnant Women
Day 1
Breakfast
Rolled Oats porridges, with mixed seeds
One banana, medium
Two cups blueberries
Morning Snack
Cheese and wholegrain crackers
Mixed nuts (a handful)
Lunch
Egg salad
One tub yogurt
One apple, medium
Afternoon Snack
Dinner
Day 2
Breakfast
Muesli with Yogurt and Linseeds
Six dried apricot halves
Morning Snack
Lunch
Afternoon Snack
Yogurt (one tub) with mixed seeds
Dinner
Day 3
Breakfast
Baked Beans on Multigrain Toast with Margarine spread
One glass of milk
Four small plums
Morning Snack
Fresh fruit and cheese platter
Lunch
Afternoon Snack
One tub of yogurt with mixed nuts (one handful)
Dinner
BBQ steaks with baked veggies and corn on the cob
Day 4
Breakfast
Morning Snack
Lunch
Wild rice, Dukkah egg, and Pomegranate
Afternoon Snack
One tub yogurt
One orange, medium
Dinner
Roast vegetables, chicken, and quinoa salad
Day 5
Breakfast
Morning Snack
Fruit salad (one cup) and yogurt (200g vanilla)
Lunch
Chicken and CousCous salad
One tub yogurt
Afternoon Snack
Toasted multigrain bread with baked beans and
Dinner
Day 6
Breakfast
Muesli with mixed seeds and yogurt
Two tablespoons currants or raisins
Morning Snack
Banana soufflé with a glass of milk
Lunch
Roast beef and salad wrap
Afternoon Snack
One pear, medium, with mixed nuts
Dinner
Baked chicken thigh fillets in tomato and vegetable sauce
Cooked rice
Salad with olive oil dressing
Day 7
Breakfast
Poached eggs with avocado on sourdough bread
Five prunes
One glass of milk
Morning Snack
Two cups diced watermelon, with seed and nut mix
Lunch
Minestrone soup
One tub of yogurt
One multigrain bread roll with margarine
Afternoon Snack
Dinner
Baked fish in lemon, with veggies and baked potato wedges
Extra Tips
It's highly recommended that you stick with the calorie count suggested by your dietician, as this level is what's considered best for you and the baby's optimal growth.
Keep your physician informed about every change experienced during and after the meal plan.
Also, take note of your allergies and food intolerances, and swap any item in the menu that may trigger these issues.
Plan the meals, so you won't have to tire yourself out every time you need to eat. Instead, make enough foods that can be repeated during the week and keep them in food-grade storage containers in the fridge.
Remember to drink up to eight glasses of water daily to keep your body hydrated during and after the meal plan.
If you crave fast foods, consider grilled chicken salads and sandwiches for your menu. You can also pick a healthy bean burrito or some veggies and hummus from the local grocery store.
During the last trimester of your pregnancy, keep the dinner menus light, as you're susceptible to heartburns during this time.
Caffeine, tobacco, and alcohol are strictly prohibited during the pregnancy period.
You can also take recommended supplements during the pregnancy diet period to support the growing baby's nutritional requirements. In addition, your dietician will help you with the best ways to combine these intakes with your diet plan.
Shopping List
Meat and Fish
Trimmed lamb
Beef
Beefsteak
Salmon
Fruits
Blueberries
Raspberries
Strawberries
Pears
Watermelon or rockmelon
Prunes
Apples
Pomegranates
Mangoes
Apricot halves
Currants
Sultanas
Grain and Grain Products
Rolled oats
Wild rice
Wholegrain flaky cereal
Brown rice
Multigrain bread
Sourdough bread
Raisins
Quinoa
Wholegrain crackers
Corn on the cob
Mountain bread
Vegetables and Legumes
Sweet potatoes
Potatoes
Collard greens
Peas
Yellow squash
Yellow onions
Cucumbers
Green beans
Spinach
Milk and Dairy
Seeds, Nuts, and Nut Products
Mixed seeds
Linseeds
Walnuts
Others
Dark chocolate
Olive oil, extra-virgin
Vegetable stock
Margarine
Ground black pepper
Bay leaves
Dukkah
Dried oregano
Conclusion
It's easy to succumb to cravings and gain unwanted weight during pregnancy, which is why a healthy meal plan can be of great assistance. And here, you'll find a wide collection of meals, snacks, and treats to help satisfy your food urges while keeping yourself and the growing baby in top shape. The meal plan is also to assist you in maintaining healthy eating habits during pregnancy and support the good weight gain required to prepare the body for childbirth. So, when you find yourself wanting a better way to diet while carrying a child, you can pick this meal plan as a helping tool.