Are you interested in entering a keto diet but don't know where to begin? Well, you're not the only one. Keto diets are becoming more popular these days and gaining a lot of disciples as a healthy way to live. But it can be unclear if you're not familiar with it. But here, this basic keto meal plan is designed to introduce you to the diet without the advanced vocabulary. And it features familiar foods, so adjusting to it becomes convenient for everyone.
Features
This basic keto meal plan features a seven-day diet schedule comprising typical keto-friendly foods and drinks. It includes a rich collection of proteins from both plant and animal sources, dairy and non-starchy vegetables of all kinds. Eggs always play an integral part in every ketogenic diet, so we've added them to get you started. And you'll also find additions like seafood and oils from nuts and vegetables included in the plan.
The meal offers three main courses every day, with snack breaks between each meal period, to keep you filled without breaking from the plan. And you're also permitted to adjust the snacks as you see fit, provided they don't include non-keto meals.
Benefits of this Diet
Living in our world, especially from the urban regions, you get used to eating lots of high-sugar foods. With the excesses of fast foods, carbonated drinks, processed canned meats, and dried fruits around, our bodies become saturated with carbs. The result is a continuous increase in weight, regular bouts of fatigue, and health risks bordering obesity.
Practicing a keto diet, therefore, becomes as paramount as breathing itself. And this basic keto meal plan is an excellent place to start. First, the diet plan triggers a metabolic shift in your body by forcing it to concentrate on fats than carbs. This, in turn, causes your body to reduce dependence on carbohydrates and high-sugar foods to operate, further improving blood sugar control.
The shift in metabolism initiated by this basic keto plan further helps you shed weight. This keto plan can help you lose as much as 10 pounds or more in two weeks when done right. It also encourages an improvement in eating habits, as your body adjusts to whole foods rather than processed ones. You'll also find that the foods in this basic keto diet plan are great for suppressing appetite, so you can watch how much you eat. And the resultant weight loss helps you reduce the risk of cardiac issues, high B.P., obesity, and excessive blood cholesterol.
Because keto diets focus on whole foods, this meal plan can be adopted for paleo. And it's heavy with leafy greens and vegetables, making it also ideal for vegetarian diets- with a few adjustments, of course. And many of the items on this basic keto diet plan are gluten-free, and those that aren't can be adjusted to suit such sensitivity. But while this basic keto diet plan is a superb option for weight loss programs, medical counsel must be adhered to before engaging in it. This suggestion applies especially to those on a previous medication, pregnant women, and nursing mothers, most of which are advised not to engage in a keto diet.
Meal Plan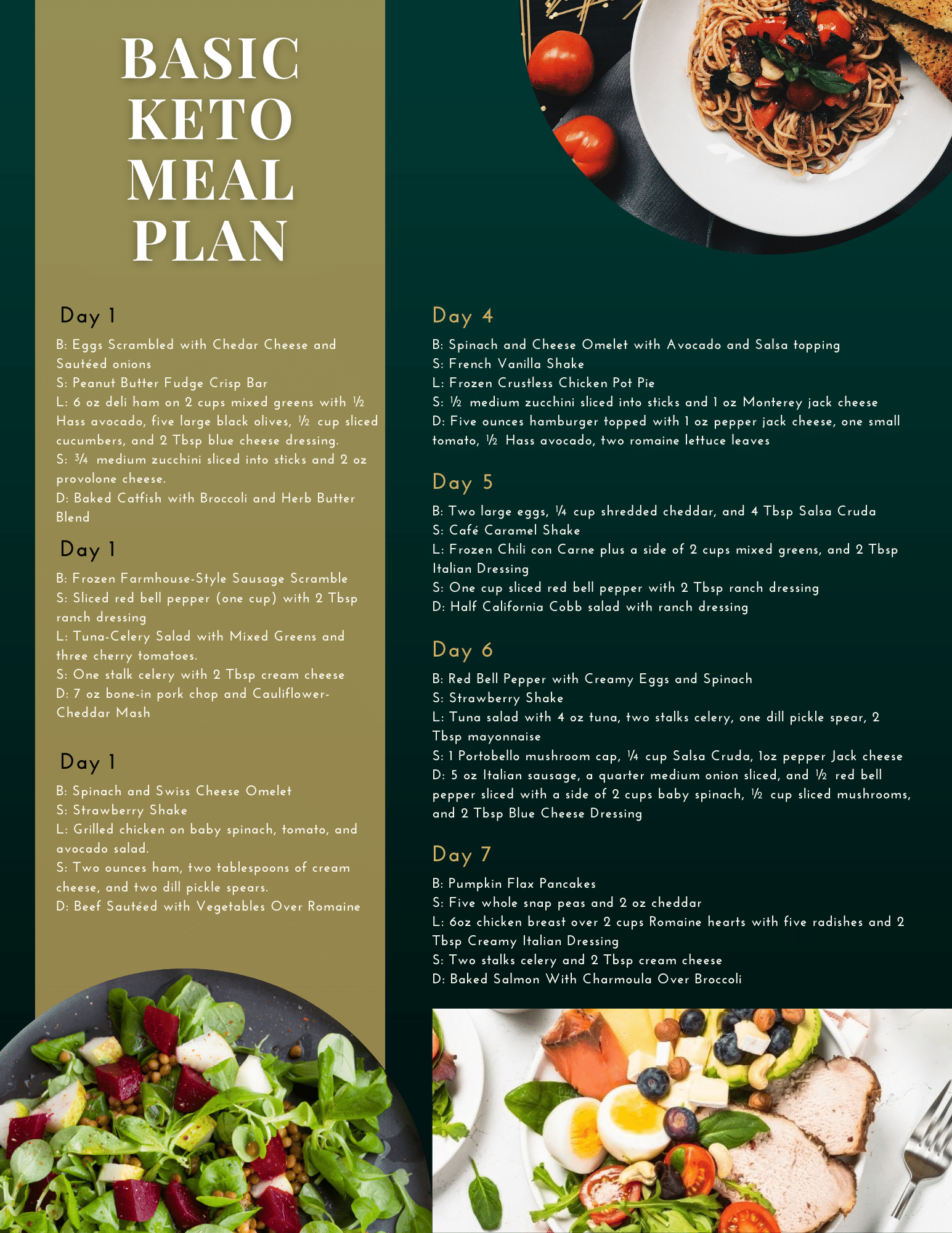 Download Here: Basic Keto Meal Plan
Day 1
Breakfast
Morning Snack
Lunch
Afternoon Snack
¾ medium zucchini sliced into sticks and 2 oz provolone cheese.
Dinner
Day 2
Breakfast
Morning Snack
Sliced red bell pepper (one cup) with 2 Tbsp ranch dressing
Lunch
Afternoon Snack
Dinner
7 oz bone-in pork chop and Cauliflower-Cheddar Mash
Day 3
Breakfast
Morning Snack
Lunch
Afternoon Snack
Two ounces ham, two tablespoons of cream cheese, and two dill pickle spears.
Dinner
Day 4
Breakfast
Spinach and Cheese Omelet with Avocado and Salsa topping
Morning Snack
Lunch
Afternoon Snack
½ medium zucchini sliced into sticks and 1 oz Monterey jack cheese
Dinner
Day 5
Breakfast
Two large eggs, ¼ cup shredded cheddar, and 4 Tbsp Salsa Cruda
Morning Snack
Lunch
Frozen Chili con Carne plus a side of 2 cups mixed greens, and 2 Tbsp Italian Dressing
Afternoon Snack
One cup sliced red bell pepper with 2 Tbsp ranch dressing
Dinner
Half California Cobb salad with ranch dressing
Day 6
Breakfast
Red Bell Pepper with Creamy Eggs and Spinach
Morning Snack
Lunch
Tuna salad with 4 oz tuna, two stalks celery, one dill pickle spear, 2 Tbsp mayonnaise
Afternoon Snack
1 Portobello mushroom cap, ¼ cup Salsa Cruda, 1oz pepper Jack cheese
Dinner
5 oz Italian sausage, a quarter medium onion sliced, and ½ red bell pepper sliced with a side of 2 cups baby spinach, ½ cup sliced mushrooms, and 2 Tbsp Blue Cheese Dressing
Day 7
Breakfast
Morning Snack
Five whole snap peas and 2 oz cheddar
Lunch
6oz chicken breast over 2 cups Romaine hearts with five radishes and 2 Tbsp Creamy Italian Dressing
Afternoon Snack
Two stalks celery and 2 Tbsp cream cheese
Dinner
Extra Tips
You can cook some meals beforehand and save them later, especially if repeated in the meal plan.
Ensure that you only shop for as many groceries as you'll need. Perishable may go wrong before the day you'll eat them, so buy as much as can be consumed within their viable time.
Keep your body hydrated during the keto diet by taking lots of fluids and salt.
Concentrate on simple meals you won't have to cook to make it easier.
You can consider canned fish, provided it's free of preservatives.
Ensure your meals contain more proteins and vegetables than fat.
Sugary foods like pastries and ice cream should be frowned upon during a keto diet plan.
Stay away from sweetened drinks like punch, sweet teas, energy drinks, and carbonated beverages.
Most fruits have a high GMI and should be avoided. And that includes the juices as well.
Conclusion
Keto diets are easy to adopt, provided you know where to start. And they're an impressive stepping stone to healthy eating habits. Plus, they can help you control weight gain and regulate blood sugar when done right. So, if you're looking to kick-start one today, this meal plan is a fantastic way to begin.