One of the most impressive weight loss programs available today is the Bright Line Eating plan. This diet plan uses a blend of psychology and neuroscience to create a schedule that works for anyone. The Bright Line Eating meal plan is a great way to live healthily, so if you're jumping on it for the first time, then you're in luck. Here, you'll read more about what the meal plan is all about and get an attractive scheduled plan that can fit into any lifestyle.
Features
This meal plan is carefully formulated to suit almost any need, but it's made for healthy eating in its core design. The Bright Line Eating plan features a specified amount of food for a period, with strict instructions on what not to eat during the program. Its primary focus is to help you control how much food you consume, especially if you're suffering from overeating. And it helps to check binge eating, giving you a grasp over the amount and frequency you eat through a straightforward planned diet plan.
The Bright Line Eating meal plan uses four primary non-negotiable standards to formulate its plan. First, the standards involve complete abstinence from flour, sugar, eating between meals, and sticking to a specific amount of food. This means that you can't consume sugar or sugar-based foods, foods made with flour, in this Bright Line Eating Plan, and won't be snacking between mealtimes. Instead, you'll be dieting on whole foods; fruits, proteins, healthy fats, and many vegetables. And it means the foods planned are premeasured, meaning you live with that amount throughout the program, and the calorific count it comes with- this one, for instance, works up to 1200 calories.
Benefits of this Diet
The primary benefit of this Bright Line Eating plan is weight loss. This seven-day meal plan is an effective way to lose up to seven pounds in a week! And the principle is to operate on making sit perfect for such a feat, as Bright Line Eating helps you avoid unhealthy carbs known to induce weight gain. Plus, its portion control and zero-snacking methods mean you eat a specific amount and nothing else throughout the program, guaranteeing you a significant drop in body fat.
The program is also perfect for those with overeating issues and binge eating. By practicing the portion control instructions of the Bright Line Eating meal plan, you can regulate how much food you consume and learn to live beyond snacking all the time. And since many overeaters are prone to flour and sugar-based foods, the restriction for such diets helps them build a stronger resistance towards consuming excess foods.
The Bright Line Eating is also adaptable to vegan diets, as it's made chiefly of plant-based items; all that's needed is to swap all animal protein products with their vegan counterparts. And its collection of whole foods makes it an excellent suggestion for paleo enthusiasts as well. It's also mostly made of low-carb suggestions (40% carbs) and adapted for keto diets. But of course, this percentage is somewhat high, so a user can reduce the number of carbs to fit into their keto lifestyle. So the key is that the Bright Line Eating plan can help a keto dieter improve healthy eating and portion control.
Meal Plan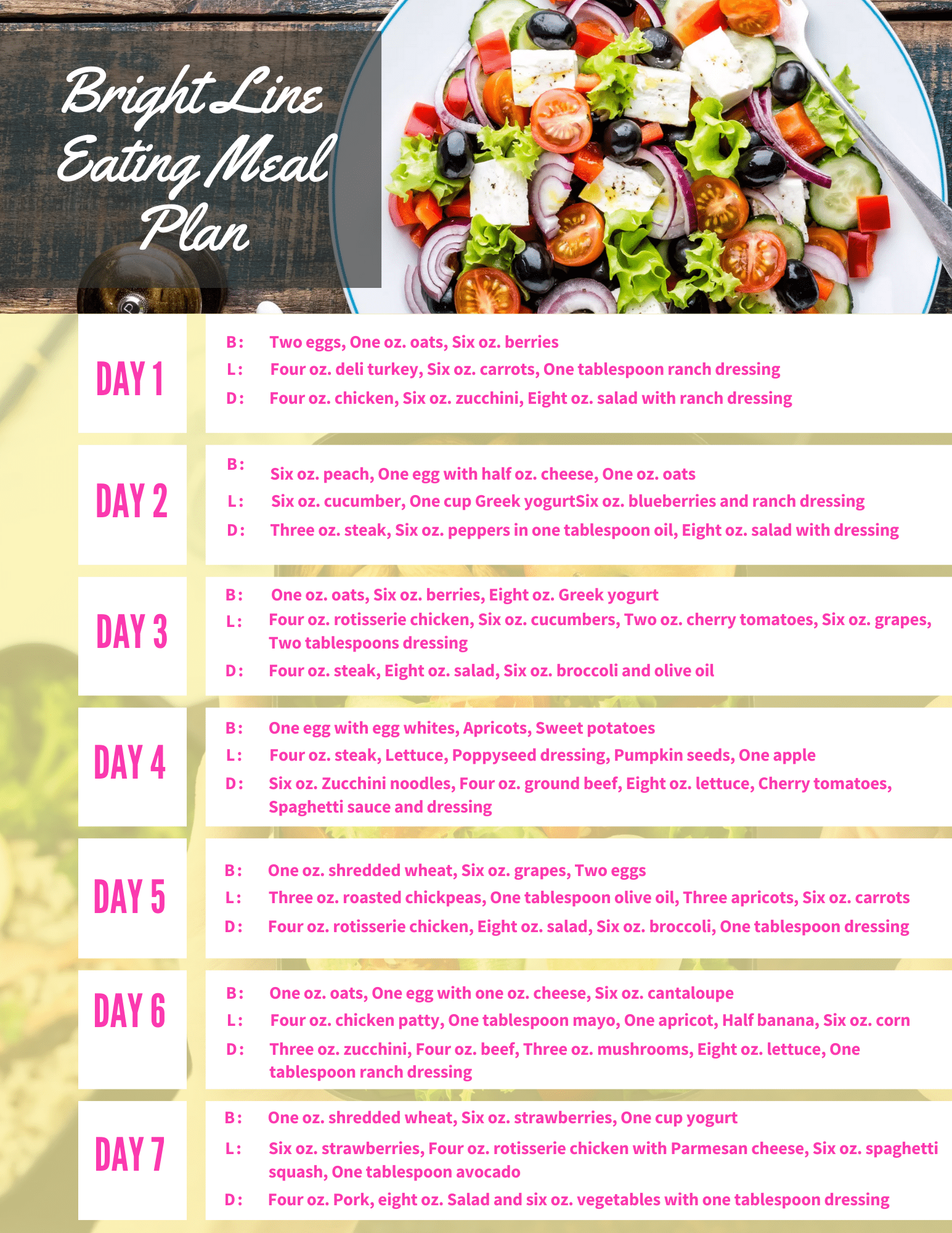 Download Here: Bright Line Eating Meal Plan
Day 1
Breakfast
Lunch
Dinner
Day 2
Breakfast
Six oz. peach
One egg with half oz. cheese
One oz. oats
Lunch
Six oz. blueberries and ranch dressing
Dinner
Three oz. steak
Six oz. peppers in one tablespoon oil
Eight oz. salad with dressing
Day 3
Breakfast
One oz. oats
Six oz. berries
Eight oz. Greek yogurt
Lunch
Dinner
Four oz. steak
Eight oz. salad
Six oz. broccoli and olive oil
Day 4
Breakfast
One egg with egg whites
Apricots
Lunch
Four oz. steak
Poppyseed dressing
Dinner
Day 5
Breakfast
Lunch
Three oz. roasted chickpeas
One tablespoon olive oil
Three apricots
Dinner
Four oz. rotisserie chicken
Eight oz. salad
Six oz. broccoli
One tablespoon dressing
Day 6
Breakfast
One oz. oats
One egg with one oz. cheese
Six oz. cantaloupe
Lunch
Four oz. chicken patty
One tablespoon mayo
One apricot
Dinner
Three oz. zucchini
Four oz. beef
Three oz. mushrooms
Eight oz. lettuce
One tablespoon ranch dressing
Day 7
Breakfast
One oz. shredded wheat
Six oz. strawberries
Lunch
Six oz. strawberries
Four oz. rotisserie chicken with Parmesan cheese
Six oz. spaghetti squash
One tablespoon avocado
Dinner
Four oz. Pork, eight oz. Salad and six oz. vegetables with one tablespoon dressing
Extra Tips
The Bright Line Eating plan is an effective healthy eating program, but it's still recommended that you seek counsel from your nutritionist before proceeding. Having professional medical personnel along the journey helps you practice safe dieting and gets you detailed information regarding your calorific intake requirements.
Remember to stick to the food plan and not add anything else. The bright-line eating diet stays true when the portions remain fixed.
No snaking whatsoever is permitted between meals.
No artificial sweeteners are allowed, which means you can't consume carbonated drinks, ice cream, or colored fruit drinks.
If you feel the calorific count of the weight plan is too low, consider boosting it with a few fruits and vegetables.
All baked goods are prohibited in this meal plan. That means no pretzels, burgers, bread, donuts, muffins, cupcakes, cakes, scones, or anything made with flour.
Consider merging this meal plan with regular light exercises for the best weight loss results.
Always ensure to plan your meals, and prepare them beforehand. It makes it easier for you to stick to the schedule, especially if you have a busy lifestyle.
If you work during the day, pack your lunch in to-go bags before leaving the house. This way, you can continue the program even in your working environment.
Shopping List
Eggs
Oats
Deli turkey
Carrots
Chicken
Zucchini
Mixed salad greens
Peaches
Cheese
Cucumbers
Greek yogurt
Blueberries
Steak
Peppers
Olive oil
Cherry tomatoes
Broccoli
Apricots
Sweet potatoes
Lettuce
Poppyseed
Pumpkin seed
Apples
Spaghetti sauce
Ground beef
Shredded wheat
Cantaloupe
Burger buns
Mushrooms
Bananas
Strawberries
Parmesan cheese
Pork
Conclusion
Poor portion control and overeating are the two biggest culprits of weight gain. And these factors are intertwined with the excessive consumption of sugar and flour-based foods. So it's why the Bright Line Eating meal plan exists; to help curb these issues and create a healthy eating lifestyle while promoting weight loss. So, if you're interested in building a better relationship with your diet, then this meal plan is your best bet.