Since chili and lime are prominent in Mexican cuisine, it's no surprise that a Mexican corporation developed Tajin seasoning.
Thankfully, that Mexican company has been exporting their product worldwide, so people from all over the world can now enjoy Tajin.
Although the Tajin product range includes various items, their general application in cooking is the same.
Read on as you learn more about Tajin, its uses, and its applications in recipes. In addition, I have highlighted some remarkable and reliable Tajin substitutes you use instead in your recipes for days you are in a pinch.
What Is Tajin
If you are unfamiliar with the seasoning, it is a simple spice mix made up of dried and crushed red chilies, sea salt, dehydrated lime juice, and a small amount of an anti-caking ingredient.
Tajin has a sour and salty flavor with a spicy yet lemony flavor. Some Tajin brands may be spicier than others, or the lime flavor may be more pronounced, depending on the different recipes for this spice.
You will find that there are no artificial flavors, artificial colors, sugar, or substances. The Tajin Clásico is the first and maybe most well-known product in their seasoning collection.
There's also a low-sodium variant as well as a habanero chile combination. The only distinctions between the three are that one uses less salt and the other utilizes habanero chilies instead of the combo of red peppers used in the Clásico.
When you take a bite of any three, your tongue puckers with a zesty, delicious citrus flavor, followed by moderate heat.
In any case, Tajin is a seasoning that you should keep in your kitchen because it can be used in various dishes.
Tajin Uses in Recipes
Notably, Tajin goes well with virtually anything you can think of.
It gives everything a "zing."
Locals in Mexico enjoy sprinkling it on fresh fruits and vegetables. It gives the fruit a lovely fresh, lemony, and spicy flavor that complements its inherent sweetness nicely. It goes great with juicy slices of watermelon and mangos, crunchy nibbles of apples, or cucumber and jicama slices for a summer delight.
You can use the seasoning blend in marinades or spice rubs for chicken, fish, shrimp, and even steak for a distinct flavor.
See some delectable dishes and recipes you can utilize Tajin in:
Tajin Substitutes
You can use the following substitutions according to your liking, as they are all distinct and will affect the taste of your final dish. These substitutes work well in fruit and vegetable-based recipes, and you will enjoy using them in stir-fries.

If you discover a chili mix at your local supermarket, all you have to do to get closer to the Tajin flavor is add some lemon to it.
If you want a more sauce-like texture, add lemon juice or dried lemon and utilize the mixture in your dish. When it comes to proportions, make sure to use equal amounts of each item.
It depends on the type of chili mix you find, though; to get the ideal balance, use your particular preferences.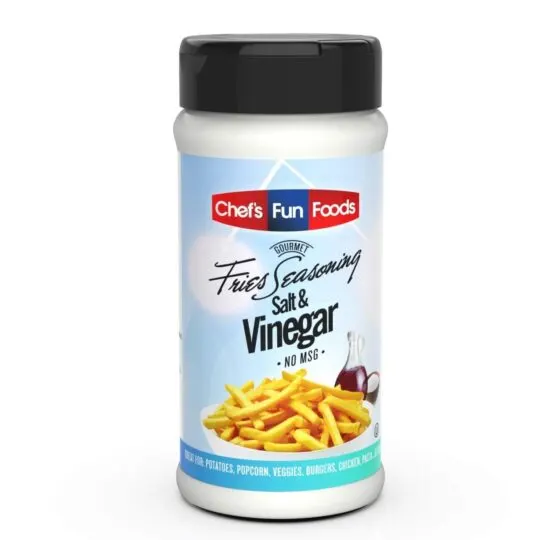 If you don't have Tajin on hand, you can use fries seasoning as a substitute. This seasoning is available in all supermarkets and usually comes in two flavors – mild and spicy.
Considering you won't be using any extra chili unless you have some, the spicy flavor of fries seasoning can be a good choice in your recipe. You will be impressed with the results if you use this option for dishes that include vegetables or a combination of meat and vegetables.
This French fry seasoning is a versatile seasoning that goes well with burgers, vegetables, grilled cheese, and more. You will want to use it on everything since it's so amazing.
This blend's heat, toasty spices, salt, and garlic are just right. So prepare your fresh or frozen fries recipe; you can season them with some amazing French fry seasoning before dipping them in a sauce.

Chili flakes are widely available at supermarkets. Typically, they are unadorned. As a result, you can combine your chili flakes with dehydrated lime to create a unique flavor.
When mixing dehydrated lime with chili flakes, your proportions depend on how spicy you want your cuisine to be.
If you desire a stronger lime flavor, you can use extra flakes. Make sure you use the chili flakes as your main ingredient if you enjoy the spicy flavor. You will find that this combo is fantastic in stir-fries, curries, and on top, a variety of meat and fish recipes.
Frequently Asked Questions (FAQs)
What was Tajin's original use?
It's a moderate warmth that's both salty and lemony at the same time. Tajin began as a spice to complement fresh fruits and vegetables like mango, pineapple, melon, jicama, and cucumber. Still, as the product gained popularity, people began to use it in various ways.
Is Tajin a hot or a sweet dish?
The Tajin seasoning is acidic, salty, and hot smidgeon. It has a vibrant citrus flavor with a hint of pepper, and it goes well with both sweet and savory foods.
Is Tajin beneficial for weight loss?
This dry seasoning is like a weight-loss cheat code. It has no added sugar or calories, but it also gives your vegetables and fruits a distinct flavor. However, you should take it in moderation because of the sodium concentration.
Conclusion
Tajin seasoning is a Mexican spice prepared from a variety of peppers, lime, and salt.
It may appear not easy to find a ready-made Tajin substitute, but if you choose one of the options in this article, you will undoubtedly save your recipe.
You get to be creative with the ingredients you mix to get the Tajin flavor, and you can come up with some tasty combinations to utilize in future meals.