Even when you approach old age as a woman, you must ensure that your body is well-nourished. For example, many women over 50 want a diet that will appropriately strengthen cardiac and cognitive abilities, help them handle symptoms of menopause, or improve their overall health. There are numerous diet plans available, but not all of them are beneficial to your health as you grow older. This sample meal plan is designed to help you retain your optimal health, supplement your body regularly, and live a healthy lifestyle in general.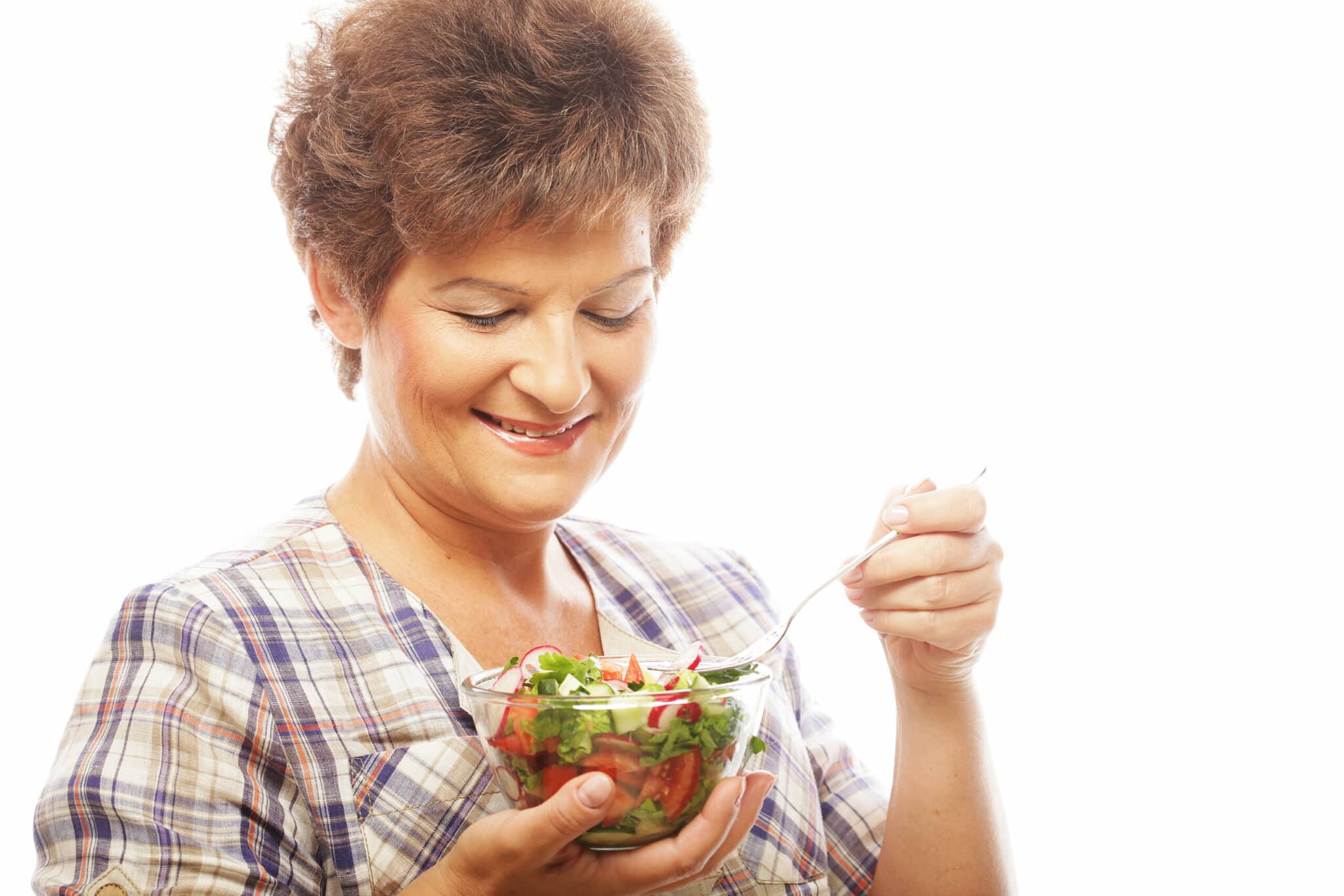 Features 
One of the key features of this diet is that it allows you to have a well-balanced diet which is vital for you. As a result, eating a well-balanced diet is critical to maintaining your health.
As a woman, you want to eat the healthiest meals possible that contain the proper ingredients, give good nutrients, and are nutritional, providing you with a daily dose of nutrient levels. In addition, you must continue to follow a diet that promotes muscle tissue growth as you age to lower your chance of falling and injuries. Furthermore, your lean muscle is linked to your metabolic performance, which is why it's critical to follow a muscle-building diet. Fruits, vegetables, whole grains, proteins, and starchy carbohydrates are all included in this diet. Furthermore, each dish in this meal plan has a lot of flavor and depth of flavor.
You must consult with your healthcare professional or a registered dietitian to get the most out of this meal plan; this will correctly guide you. Another feature of this diet is that it may be used by people who live sedentary or somewhat active lifestyles.
Benefits of this diet
While eating a well-balanced and healthy meal is vital for everyone, it becomes even more crucial to consume the proper meals as you become older. In addition to keeping your body healthy, eating right can help you have a positive mood and sense of well-being. But on the other hand, healthy eating does not have to be difficult; instead, it should be about enjoying tasty, fresh foods prepared with nutritional components.
If you want to maintain stable mental health as you grow above the age of 50 as a woman, taking in this well-balanced diet, will you do just that? This sample meal plan will help you boost your immunity which would inevitably fight illnesses. It would also be useful for you to lose weight and prevent other diseases that may cause life-long injury to the body.
As a 50-year-old woman, eating a diet rich in fruits, vegetables, seafood, and nuts, as well as omega-3 fatty acids, can help you improve your concentration and reduce your risk of certain diseases. Antioxidant-rich foods might also aid in improving your attentiveness. For example, if you follow this meal plan, your body will receive the critical vitamins and minerals it requires to keep alive and healthy. Iron, for example, is required by your body to assist in the delivery of oxygen to all of your muscles and organs. Vitamin C aids in the formation of new skin cells and collagen in the body, and vitamin A improves your night vision.
For practically everyone, even women over 50, the Mediterranean diet is routinely rated as one of the healthiest dietary habits. The minimal saturated fat level of this diet distinguishes it. It's mostly made up of vegetables, legumes, fruit, nuts, and whole grains, with olive oil serving as the main source of added fat. This means you can adopt this diet to meet your Mediterranean eating habits. This meal plan can also be used to help you keep to a paleo diet. The majority of its ingredients are raw and organic, which are recognized to provide your body with the most nutrients.
Meal Plan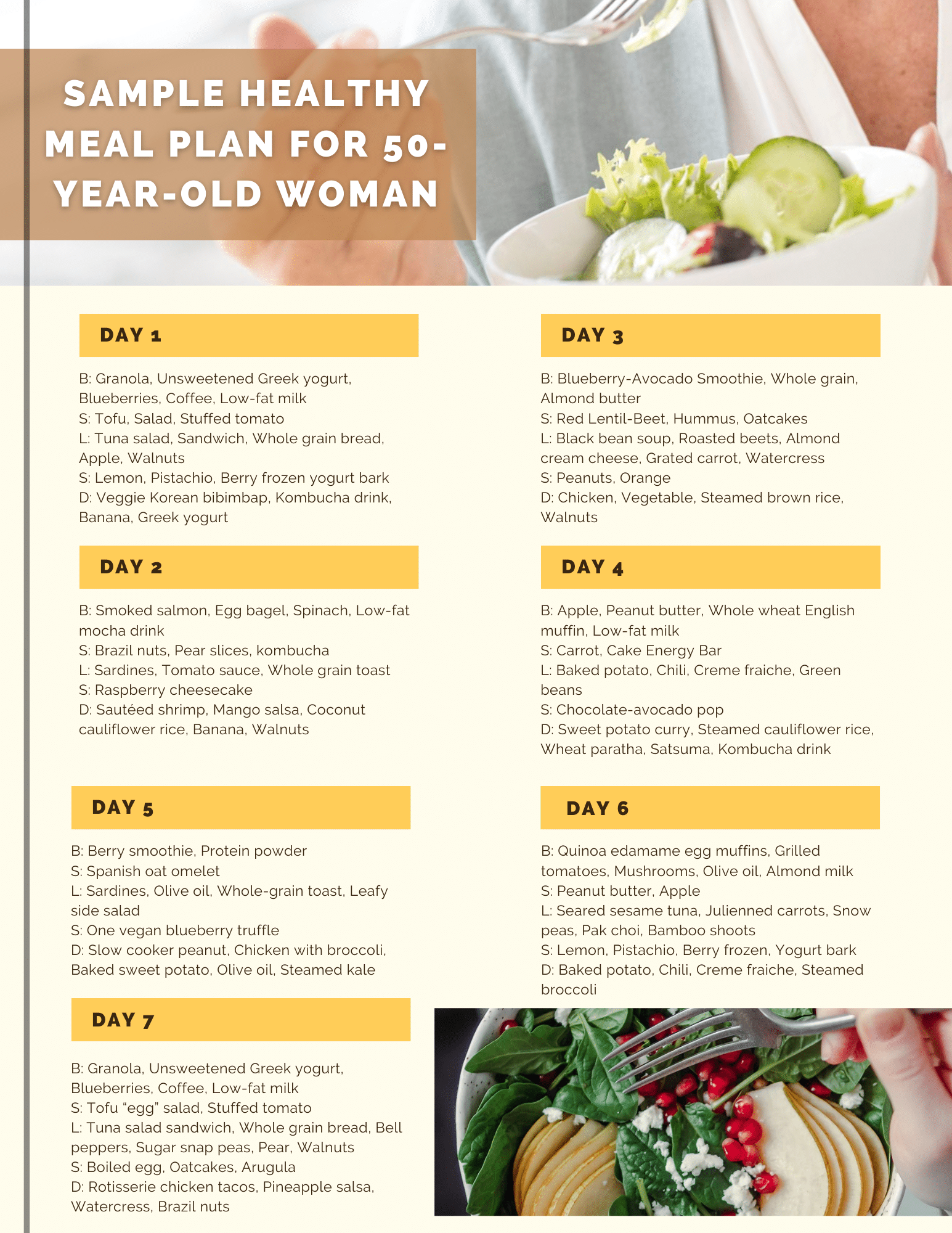 Download Here: Sample Healthy Meal Plan For 50-Year-old Woman
Day 1
Breakfast
Morning Snack
Lunch
Afternoon snack
Pistachio
Berry frozen yogurt bark
Dinner
Veggie Korean bibimbap
Kombucha drink
Day 2
Breakfast
Morning Snack
Brazil nuts
Pear slices
kombucha
Lunch
Sardines
Whole grain toast
Afternoon snack
Dinner
Day 3
Breakfast
Morning Snack
Lunch
Afternoon snack
Dinner
Day 4
Breakfast
Morning Snack
Lunch
Afternoon snack
Dinner
Day 5
Breakfast
Morning Snack
Lunch
Whole-grain toast
Leafy side salad
Afternoon snack
One vegan blueberry truffle.
Dinner
Slow cooker peanut
Baked sweet potato
Olive oil
Steamed kale
Day 6
Breakfast
Morning Snack
Lunch
Afternoon snack
Pistachio
Berry frozen
Yogurt bark
Dinner
Baked potato
Chili
Creme fraiche
Steamed broccoli
Day 7
Breakfast
Granola
Unsweetened Greek yogurt
Blueberries
Coffee
Low-fat milk
Morning Snack
Tofu "egg" salad
Stuffed tomato
Lunch
Tuna salad sandwich
Whole grain bread
Bell peppers
Sugar snap peas
Pear
Walnuts
Afternoon snack
Boiled egg
Oatcakes
Arugula
Dinner
Extra Tips
To aid digestion and nutrition absorption, hydrate by drinking plenty of water throughout the day. Beverages with added sugar should be avoided.
Osteoporosis puts one out of every three women over 50 at risk of breaking a bone. To help avoid this condition, a woman over 50 needs 1,200 milligrams of calcium every day. To keep track of your intake, look for the label on food goods.
Muscle wasting is lessened when you eat enough protein. More soy, quinoa, eggs, dairy, almonds, seeds, and beans are recommended. This will aid in the prevention of injury caused by the loss of up to half of your skeletal muscle mass.
Make entire foods your diet's base. Choosing whole grains, fruits, and vegetables will help you avoid many of the difficulties of getting older.
You should aim to add more tasty meals into your diet because the effects of aging on taste make food less appealing.
Conclusion
The nutritious meal plan is a wonderful way for a 50-year-old woman to stay in shape while keeping her body moving. The meal plan also has a variety of benefits, including the ability to prevent specific muscle illnesses, the ability to combine it into other diets, and the ability to promote a healthy lifestyle. Don't be frightened to try this diet plan if you believe it will enhance your health.